B2B Ecommerce
Made Simple!
Experience a new approach and meet the expectations of a modern-day B2B buyer!
B2B Ecommerce is evolving fast
The Millenials - the generation that grew up using the Internet comprises of half of the B2B buyers worldwide. This indicates that the expectations from business buyers are aligning more closely to those of the B2C Ecommerce consumers. That makes 'B2B' the new 'B2C' and with more B2B buyers going online to research and buy products, the differences are fading when it comes to the online stores.
B2B Ecommerce will reach $1.8 trillion and account for 17% of all B2B sales in the US by 2023.

In 2015, Google found that close to half of B2B buyers are millennials

What does it mean for the B2B Merchant ?
As a B2B merchant, you will need some or all the following to meet your customer's expectations and reach your goals
B2C Ecommerce best practices like:

An attractive and responsive website

Intuitive user
experience

Easy navigation and search

Strong Search Engine Optimization (SEO)
and a comprehensive set of B2B features to solve your complex challenges.
Our B2B Ecommerce Solution
The right B2B Ecommerce solution is fundamental to the success of your B2B business. We will help you create a differentiated B2B Ecommerce experience to delight your business buyers and offer a seamless customer journey.
We provide B2B Solution for your Ecommerce
Integrated B2B Ecommerce Solution for Magento
Integrated B2B Ecommerce Solution for WooCommerce
Integrated B2B Ecommerce Store
Connect other applications with your existing B2B store!
Planning to get started with B2B Ecommerce? Or want to improve your current online sales channels for business buyers?
Many B2B companies are choosing third-party applications to manage processes like order fulfillment, warehouse management, accounting, etc. along with their eCommerce platform. In those cases, an integration solution is needed to connect those multiple systems together and efficiently manage the business.
ERP, CRM, POS, Shipping Application - you name it, we have an integration ready for you! We offer you an integrated eCommerce solution tailored for you with the B2B buyer in mind. Our platform (APPSeCONNECT) seamlessly integrates your B2B Ecommerce platform with SAP, Microsoft Dynamics, Netsuite, and other business applications. With the knowledge and years of expertise, our robust integration platform can connect your applications with pre-built templates or even help you customize your business automation with the help of APIs.
APPSeCONNECT is a smart and powerful Integration Platform as a Service (iPaaS) solution that seamlessly connects two or more business applications with one another .

Connect all your SaaS, on-premise applications, data sources and technologies under one single platform.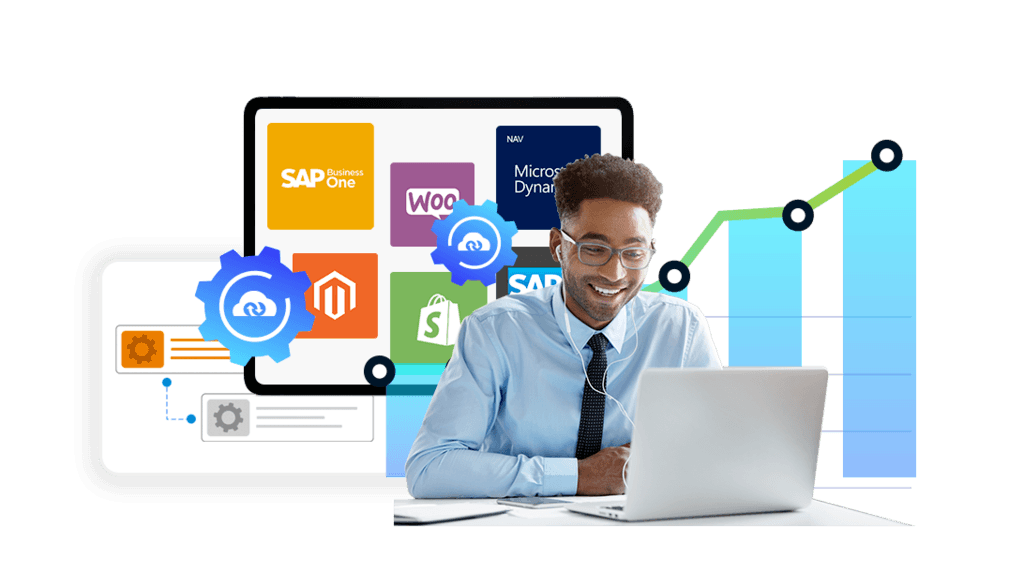 Seamless integration of multiple applications
Complex business processes automated
Streamlined business operations across the organization
B2B Ecommerce Success Stories
Get solutions based on your unique business needs.
Stay ahead of the competition. To get your B2B eCommerce strategy right, you must understand your customers and choose your systems and process strategically.
Trusted by Leading Brands – with our offerings in the sphere of integration and B2B solutions, businesses all over the world have benefited in their quest for unprecedented growth.
We Share The Ecosystem With