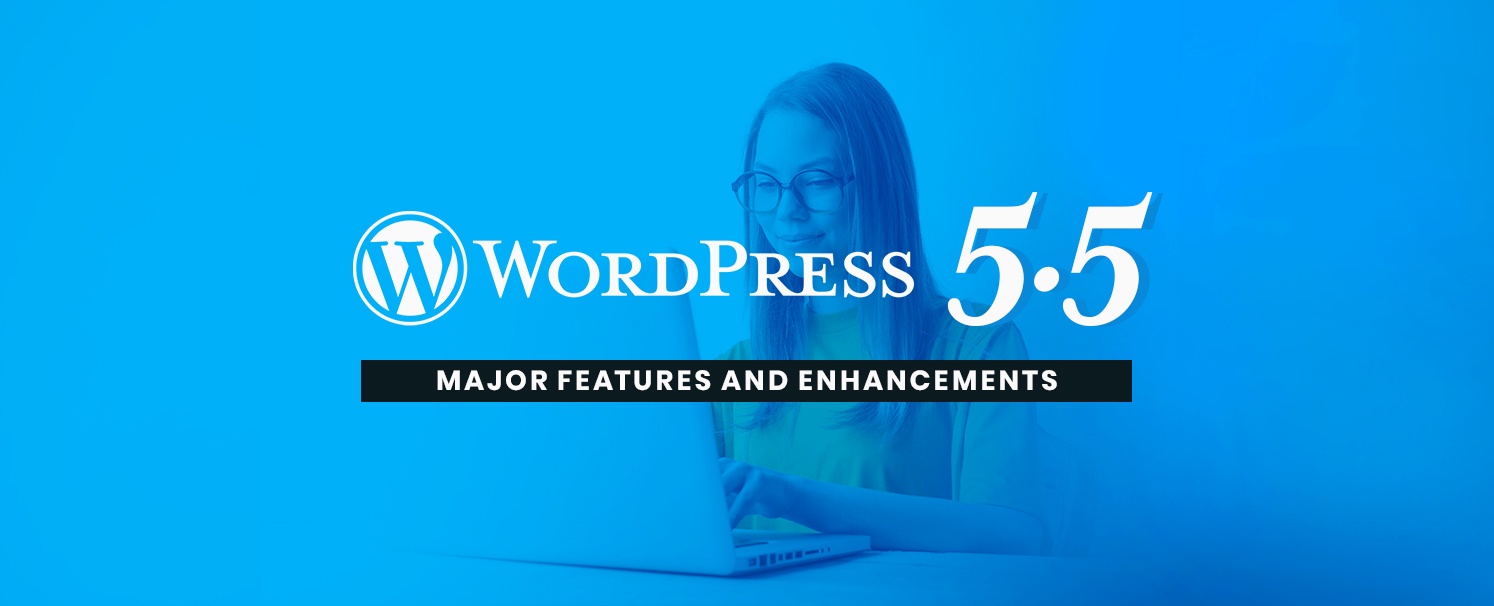 WordPress 5.5 Beta is out and is set to reach the users in general availability on August 11. Being one of the most used platforms in the world, WordPress is all in to bring major changes and enhancements to its platform. WordPress 5.5 will be the second major release of this year and promises to bring many new features and options at the hands of the developers, especially for theme authors. Most of this release focuses on providing new features to theme developers which they can add to their themes; however, two of the biggest enhancements in the platform in this release are the Automatic Updates and direct HTML changes for custom logo. Other than these, this release also improves the UI for the WordPress Block Editor, introduces Block Patterns, in-line image editing, new accessible widgets, etc.
Let's see some major enhancements and the new features that WordPress 5.5 will bring to its users. It is important to note that WordPress 5.5 is officially under development and the final version might have or not have all the features.
What's new in WordPress 5.5
Auto Updates for Plugins and Theme
WordPress 5.5 comes with a powerful and robust plugin and theme update management systems. This feature will finally allow users to run automatic updates for plugins and themes within their platform via the admin dashboard. One downside that this automatic update brings is that most of the themes and plugins will not have the same level of quality control as earlier. However, for theme authors, this auto-update means that they can push fixes to the users much more quickly – the success of this feature lies in the hands of the theme and plugin authors. WordPress Community is keen on getting this feature right.

HTML Change for Custom Logos
As a feature of an accessibility-related ticket for WordPress 5.5, the core functions – get_custom_logo() and the_custom_logo() will no longer generate a link around the logo image when viewing the site homepage. This enhancement was made since the link itself redirects to the homepage and is unnecessary.
Theme authors are encouraged to target the .custom-logo-link class instead of any particular HTML element. The new change will add a <span> element rather than an <a> element on the homepage. Both will, however, use the same class.
Revamped Gutenberg – The WordPress Block Editor
In 2018, WordPress 5.0 introduced its brand new writing experience called Gutenberg, or more commonly known as the WordPress Block Editor. With WordPress 5.5, the Gutenberg editor gets massive updates – many new features and improvements have been included in the release to enhance the user experience manifolds.
Some of the newest additions to the WordPress Block Editor include:
User Interface (UI) enhancements in the Block Editor
WordPress 5.5 presents major UI improvements in the Block Editor with noticeable changes like borders around toolbars and buttons, newer icons, and focus highlighting. Also, the (+) sign has been changed and now looks more like a button.
With WordPress 5.5, the block directory becomes more powerful. It now adds new blocks to the editor, with dozens of them already present beforehand. With the new block directory built-in to the 'Add New Block' search, users can now simply search for a feature or automatically see matching results from the directory. The directory will contain individual blocks and will include the block library plugins.
Block Patterns will be introduced
WordPress 5.5 will introduce Block Patterns to the users and help them add unique blocks to their website with a few clicks. Block patterns are pre-configured ready-to-use templates or sections that users can insert on their page or post. With a handful of patterns already present, the block patterns will allow the users to design any pattern they want and upload them on their website. This process of creating new blocks and patterns does not involve critical theme settings, tutorials or demos and can be done easily.

Previously in WordPress, basic image editing like crop, rotate, resize and scale was allowed on images by opening them in the media library. With WordPress 5.5, however, users can use the in-line image editing feature and edit images directly in the block editor. This saves a lot of time and reduces errors in the process.
The New Default WordPress XML sitemaps
An XML sitemap is a file that lists all the website content in an XML format. This further helps the search engines discover and index the content. WordPress 5.5 comes in with a new built-in XML sitemap by default. This feature creates a new sitemap index file called wp-sitemap.xml which links to the other sitemap files that it generates. All post types, taxonomies and author archives will be supported by the new sitemap feature; it will only provide the basic required functionality of the XML sitemap protocol.
Besides these major enhancements, WordPress 5.5 will also introduce smaller but effective changes for its users and developers. With its release on August 11th, we can expect WordPress to provide one of the best user experiences to its customer and deliver its solutions that help businesses gain success. We hope to see many more updates and improvements by WordPress.
Do let us know about your favorite features from WordPress 5.5 in the comments.
Get started with your WooCommerce B2B eCommerce store and gain a competitive edge in the market!

You may also like:
WooCommerce 3.8 – What's New!
WooCommerce 4.0 Released – All You Need to Know
How to Sync WooCommerce Product Images using API