We are looking for web content writers and copy editors!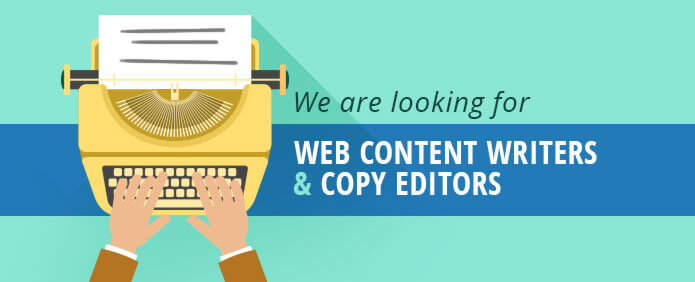 Do you have a flair for English and can't stand grammatical errors? Looking for creating great content and eradicating common writing-mistakes?
Look no further! We are in search of you.
We have an open position for Content Writer & Copy Editor.
Skills Required:
Excellent writing skill in English. The candidate must possess a natural flair and command over the language.
Strong editorial skills, such as copy editing and proof reading.
Write articles & blog posts based on given topics by researching information from the Internet and discussing with the technical team members
Edit articles, interviews and newsletters written by other team members and clients
Ensure that all the produced work has correct English and is easily understandable.
Ensure that the writing style adheres to the company's editorial guide.'
Ability to optimize the content for the web, which has an active and engaging tone, use of embedded links and writings broken up by subheadings.
Educational Qualification:
If fresher – he/she should be a graduate/post graduate with English literature, Mass Communication, Journalism with a good command over the English language. Any certification in writing like creative writing will be an advantage.
If you think you have it all, then what are you waiting for? Apply to us now!
Here's how to apply…
Please email your best article along with your resume to jobs@insync.co.in with title "Content Writer Job Application" and write a brief intro about yourself and why you should be considered for the job.