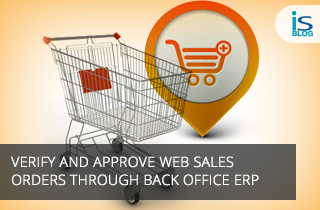 Problem: Order verification and processing is an essential part of the Order fulfillment cycle in an eBusiness model. Verification of orders placed in the web store, is always a primary concern of the merchant, as all orders placed might not be valid. Only after confirmation, further steps of the order fulfillment cycle are executed. If in an eBusiness model the back office operations are managed through an ERP system, as per general practices the processes of Order fulfillment cycle like Shipment, Invoice, etc. are controlled from the ERP system. So before processing an order in the ERP system, its payment details and shipping and billing addresses require to be verified.
So, the challenge faced in complying with the business requirement:
Having the details of the web order in a state where it can be verified and confirmed before having it for further processing in the ERP system.
Solution: SBOeConnect, an integration platform connecting Magento eCommerce with SAP Business One ERP system addresses this business requirement in the following way:
SBOeConnect capable of bi-directionally synchronizing Orders between SAP B1 ERP system and Magento eCommerce platform provides a dynamic option of downloading web orders to SAP B1 as Draft sales order which after verification and confirmation can be converted into Sales Order for further processing. In this way Back Office users can approve or reject an Order based on their verification results.