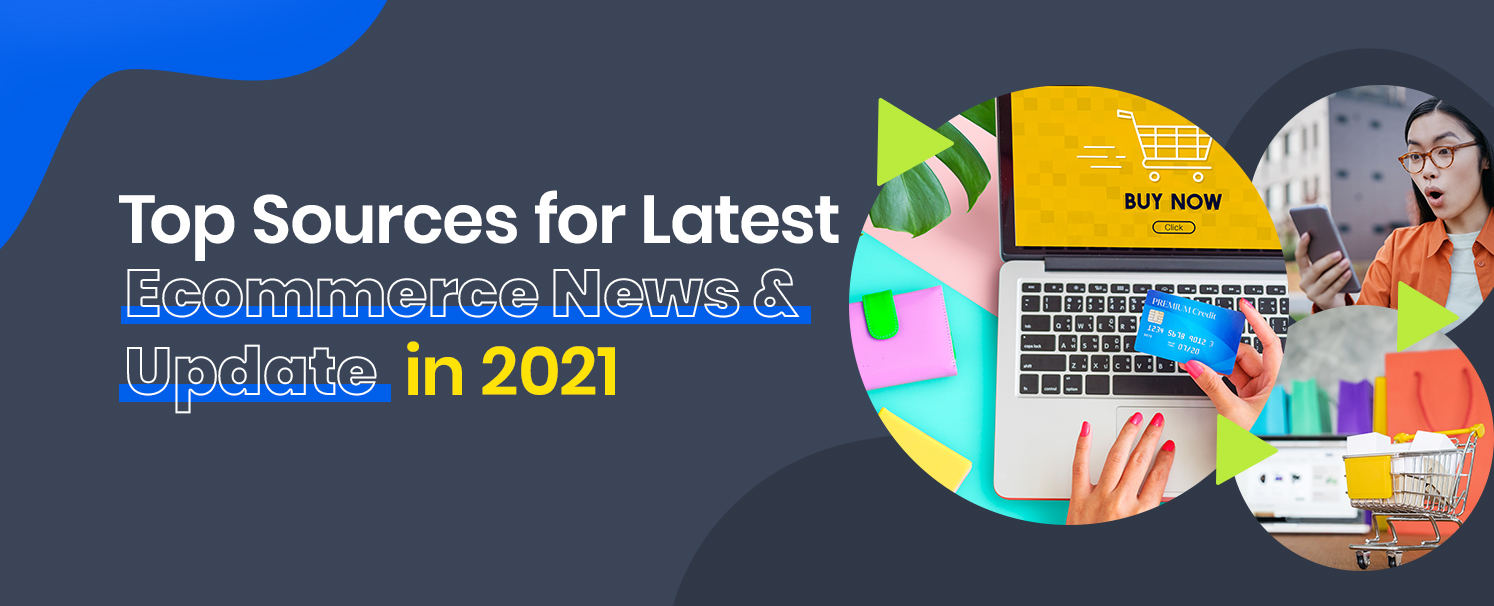 Are we not in a constant search for pro-tips, expert advice and the current market trends for our business? We live with the fear of missing out as any piece of information might become the pivotal point of our success. In the quest of looking for that life-changing piece of information, we often find ourselves drowning in a pool of data.
Having prior information and complete awareness of the industry helps us in responding better to the changes and needs arising in the market. The question is not 'what' to look at but, 'where' to look for the data.
We have put together 15 great sources of ecommerce news and updates in 2021 that can help your business achieve new heights.
Want to eliminate your eCommerce challenges and gain excellence in your business? Employ our robust B2B eCommerce Platform that helps you transform your eCommerce game. Get started with your B2B eCommerce store and gain a competitive edge in the market!
Also, if you have multiple systems running in your business, connect all of them under one single platform to automate the process and improve your productivity and efficiency!

Top 15 Sources for Latest eCommerce News and Updates in 2021
Google Alerts
Google Alerts is a simple yet powerful way to keep you in the know. If you want to stay updated on all the events taking place in the ecommerce world, this is the best tool for you. It is an email-driven communication system that allows you to set industry filters and the frequency of the updates.
Did you know you could use google alerts for passive SEO and Marketing? Through web monitoring, you can stay posted whenever someone interacts with your story or work. Utilize it for collaboration, guest posting opportunities and a lot more, hence, ceasing all the opportunities that come your way.
TechCrunch eCommerce
TechCrunch is one of the earliest blog and media empires to report extensively on tech startups and funding. They are mainly focused on the technology industry, keeping the eCommerce world posted on business related to tech.
Did you know you could use TechCrunch eCommerce to track the latest trends in tech all around the globe and not only stay ahead of your peers but also be a pioneer in your respective vertical?
Forbes Retail
Since online shopping has become a necessity, retail has become increasingly digital, and internet-driven. For the world of eCommerce, Forbes Retail is the most dependable source of not only news but also updated analysis on retail.
Crunchbase
Crunchbase brings all the data you need at your fingertips. They bring best-in-class data from primary sources in one place and give you a crystal-clear picture of your prospects. Bid farewell to your lost-in-data moments and search through filters to get all your questions answered, that are relevant to your business.
Did you know with Crunchbase, you can stay current on what your competitors are up to? You can also get notified when an entity looks for keywords that are related to your product or service.

Practical eCommerce
Practical eCommerce thrives to help other eCommerce companies by providing them with expert insights and instructions that can be acted upon in real-time. Businesses can draw inspiration from their engaging blogs and stay updated on the current topics that are being searched on the internet.
The best topics to explore here are Amazon and Marketplaces, Analytics and Data, B2B, Conversion, Design and Development, Management and Finance, Marketing and advertising, SEO, and Shipping and fulfillment.
Business Insider E-Commerce
Business Insider eCommerce is a financial and business news website that branched out from its parent company Insider Inc. They are currently the fastest-growing blog-business site that provides in-depth knowledge on several business verticals like, finance, media and tech from across the globe. This is a great source of information about prominent brands and their whereabouts.
Retail Dive
Retail Dive provides professionals with a bird's-eye-view of the retail industry, with minimum time investment. This is the most convenient news source for professionals seeking impactful news and trends crucial in shaping retail. It is also the best place to seek answers regarding the retail sector and know about the prospects.
Topics best covered are brick and mortar, retail technology, e-commerce, marketing, payment technology, store operations, omnichannel, and more.
National Retail Federation
The National Retail Federation is the world's largest retail trade association that attracts global retail and ecommerce companies. They connect the entire consumer retail and ecommerce business community.
NRF aims to be the wheel of evolution that takes the retail industry further. This is a great place to seek inspiration and get educated about the shifting trends in the industry and seize bold opportunities.
eCommerceFuel
Have you ever longed for like-minded people with whom you could have conversations about conversion rates, chargebacks and topics that would matter? eCommerceFuel is more than a news platform, it is a community, rather the world's best Community for eCommerce store owners that helps them grow their business while building deep relationships. They have been commencing a weekly show, delivered through podcasts, which has been the turning point of several businesses and lives.
Did you know you could use their annual ecommerce trend reports and delve deep into the happenings around the world?

Econsultancy
How do you make sure that you are keeping up with all the latest industry trends? Econsultancy publishes research, analysis and advice on digital marketing, social media, e-commerce, SEO, mobile and tech news for businesses so that entities can re-engineer themselves through their thought leadership, training and digital transformation.
Did you know you could upskill your team and embed the best practices with their monthly trend webinar and case studies?
Entrepreneur
Entrepreneur is the definitive guide to all the diverse challenges of business ownership. It operates via magazines equipping entrepreneurs with the critical information they require to grow their businesses. It is not only a magazine but a community. One can subscribe or find them on the newsstands, published 12 times a year.
ChannelAdvisor Blog
ChannelAdvisor is a leading provider of cloud-based solutions to e-commerce companies. ChannelAdvisor has put together some intuitive tools and features to help you sell more with less hassle. Their blogs are a valuable source of first-hand information when it comes to insights, opinions and trends in the industry.
NeilPatel.com
Neil Patel is the New York Times bestselling author and was recognized as a top 100 entrepreneur under the age of 30 by President Obama. Check out Neil Patel's marketing blogs, Podcasts, and YouTube channel to know about the marketing trends that you should already be following.
Digital Commerce 360
Digital Commerce 360 is a leading media and research organization that delivers objective news and competitive data across e-retailing, B2B ecommerce, and digital healthcare.
Did you know you could get a DigitalCommerce360.com site memberships and access performance and financial data on thousands of global ecommerce companies through its Digital Commerce 360 Research brand?
Retail Wire
Knowledge and communication are the most effective when it is a two-way channel. Retail Wire is a discussion forum presided by a group of experts experienced in the ecommerce industry. This is the best place to get feedback, genuine input from peers and resources for free.
---
Eliminate your eCommerce challenges and gain a competitive edge in the market! Employ our robust B2B eCommerce Platform and transform your eCommerce game. Get started with your B2B eCommerce store now!
Also, if you have multiple systems running in your business, connect all of them under one single platform to automate the process and improve your productivity and efficiency!