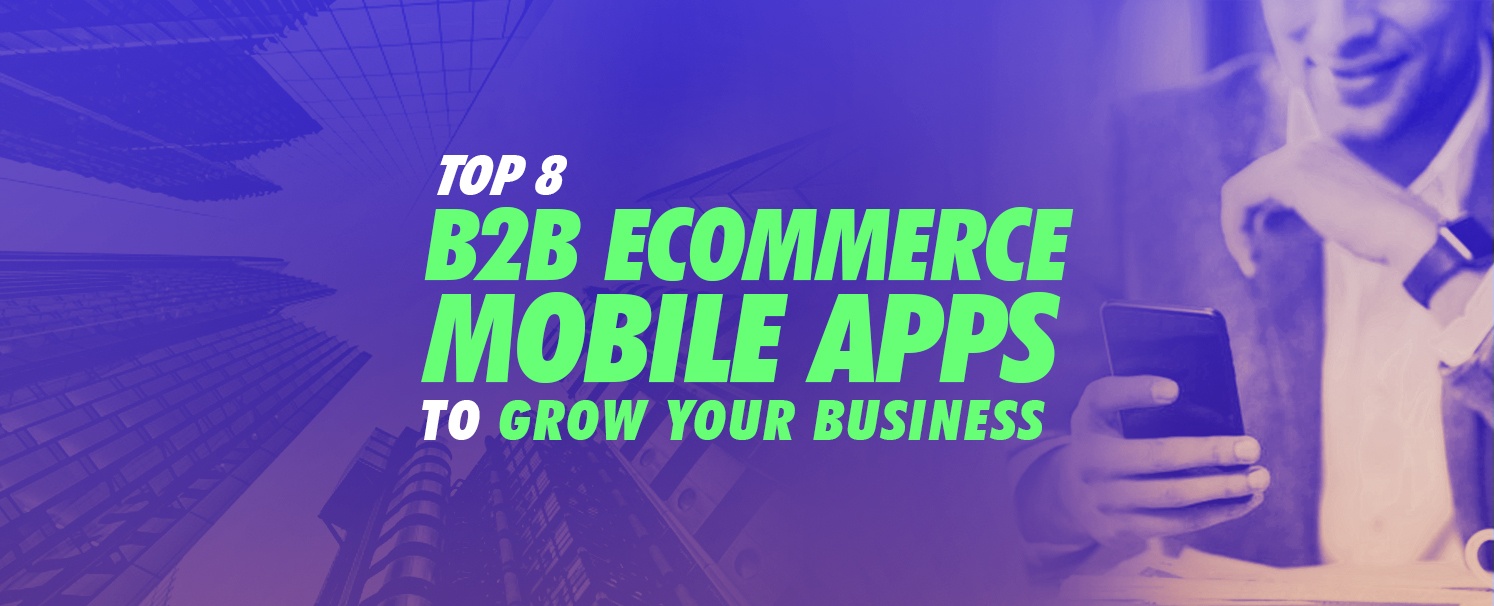 Smartphones have changed the way we live today. We are dependent on smartphones right from waking us up to entertaining us. I mean, can you imagine your life without your mobiles? B2B Ecommerce businesses have realized this dependence of their customers on phones and leveraged it by creating app versions of their online stores. This has helped them in attracting more customers and in turn improve their sales volume and ensuring top-notch customer experience at the same time. If you are a business owner who's looking for a reason to launch your mobile app you can check out this blog on reasons why every business must have a mobile app. 
Mobile apps are now more successful in expanding your customer base than a webpage. This is because of the convenience of shopping it brings to a customer and ease of use it comes with. However, just because a business has a mobile app, doesn't mean it will be successful. This is because the competition is fierce and thus, your app needs to be unique.
Here are a few features that are a must in B2B e-commerce mobile app:
Easy to register: Creating a user ID should be simple and quick without the user having type too much of information. One way of ensuring a smooth registering and the log-in process is to simply allow users to login via external accounts like Google or Facebook.
Displaying products: The products that are displayed on your app should have a detailed description and should be displayed exactly as they are. Providing excess information ensures lesser returns, purchase rate increases, and client satisfaction.
Use of Augmented Reality: Using augmented reality to display your products gives a real-like look to your products which creates a great virtual experience for your user. At the same time, it also helps a user in getting a better understanding of the product.
Shopping Cart: A shopping cart is a must-have feature for any mobile app as it gives a user the flexibility of adding a product to check it out late, or purchase it whenever they like.
User-friendly experience: Having this feature can be a break-it feature for your mobile app. Even if you display the best products you will never attract users if it's not easy to navigate through your app. A seamless experience is another must-have feature for your mobile app.

These are a few features that we feel any mobile app must have to stand out when compared to other brands. Now, that we know some of the important features of a mobile app, here are the top 8 e-commerce mobile apps that will help your business grow.
Top 8 B2B eCommerce Mobile Apps
B2BeCONNECT Mobile App
The B2BeCONNECT Mobile App is a powerful B2B eCommerce mobile solution that helps eCommerce store owners reconstruct their websites into a feature-rich B2B platform. B2BeCONNECT Mobile App is a smart, robust and powerful eCommerce solution that helps B2B marketers and business owners work with processes and operations with ease and accuracy, maintaining uniformity of data and seamlessness within systems. This mobile app works with eCommerce platforms like Magento, WooCommerce, Shopify, etc. to help B2B retailers and wholesalers delight their buyers by offering an out-of-the-box mobile commerce experience. The B2BeCONNECT mobile app aims to ease the processes of Product Management, Order Placement and Shipment intricacies and saves a lot of effort and valuable time that can now be used to focus on other details of the business.
Google Analytics App
Having a website for your business requires a lot of management on your part, especially when it comes to understanding who has been visiting your website and how much traffic is being generated. To solve this very problem, Google Analytics has come up with a mobile app version for IOS and Android. This free of cost mobile app helps you in getting real-time data, behavioral information of a user, various insights on the user as well as audience data.
LinkedIn Pulse
If you're looking for a tool that helps you gather important information and professional content which is presented to you in an organized way and an easy to understand format that LinkedIn Pulse is your go-to app. Using this app is a great way to ensure you have access to all relevant industry-related information that is trending across the globe as well as a particular segment of a market. It also ensures that you in charge of the content that is shown on your feed since you get to select the sources and individuals that too free of cost! The best feature of this app is that it will allow you to join the industry-related conversations that are trending via likes, shares, and comments and lets you share your sources on a wider level with your connections.

Asana
If you're looking for a project management app, then Asana is perfect for you! It ensures that your entire team is on the same page and working in one direction. It helps in establishes productivity and organization by emailing tasks to team members with the requirements, due dates, other subtasks and keeps notifying to the entire team of what's happening to keep them on track. This free of cost tool is designed in a manner that keeps you on top of your game and assures you that no task will be missed by your team.
WebEx
If you have a team that is scattered across the globe then conducting meetings is always a thing of concern. However, WebEx takes care of all such concerns. It allows you to host and attend meetings with anyone from any part of the world, at any time using your mobile app. Not only this, but it also keeps you connected with your team by allowing you to share messages and files. It ensures that you are in sync with you're the activities of your organizations, wherever you are, that too free of cost! This tool is even more useful now since most of us are working from home.
Dropbox
In the B2B world you never know what document you need and thus, keeping files both at your desktop as well as your smartphones becomes a must. So how do do this? Dropbox is here to solve this problem for you. Its mobile app ensures that all your files stored on your desktop, which includes your presentations, files, important documents are also available on your cell phones so you're always on the go. This app is free of cost and ensures that all your content is available to you at a single platform.
HootSuite
Social media has become an important platform to understand how your targeted customers are reacting, their feedbacks, and expectations from you. Monitoring the social media activities of your audience becomes imperative to ensure a flawless customer experience. The mobile app of HootSuite makes this job easy for you. It is well-connected with its desktop version and thus allows you to keep a track of all the relevant social media activities that are taking place on Facebook, LinkedIn and Twitter and keeps all the analysis in one place. Its mobile app also allows you to directly post tweets, news on Facebook, updates on LinkedIn, and a lot more. This app ensures that you are on top of your social media game, free of cost!
Salesforce Mobile
As a B2B business, it is essential to have your sales effort and profits in check using CRM. This is where the Salesforce mobile app comes to your rescue with its stable and efficient CRM solution. Every feature of the desktop version of this software is available on its app which makes sure your sales activities and profits are always in check. This app is also free of cost which makes it even more desirable for your business.
---
Get started with your B2B eCommerce store and gain a competitive edge in the market!

You may also like:
6 Reasons You Need a B2B eCommerce Mobile App for Your Business
B2BeCONNECT Mobile App – B2B eCommerce Made Simple by InSync
The Growth in Mobile Commerce in 2020: Impact of Coronavirus