Scam Warning! Ignore fake job invites in name of InSync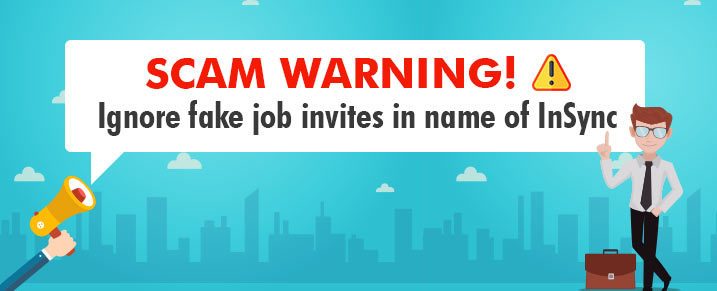 Do you use oDesk or Craiglist? There is a scam going around on their website and we need to warn you as people are getting fake job invites in our company's name. DO NOT fall for it if you get a response to your application with instructions to create a Yahoo! Messenger account and initiate an online chat with someone claiming to work for our company.
Note that we ALWAYS publish open positions in our website first, before initiating any hiring process. So, in order to avoid any fraudulent recruitment / hiring made in our name, please make sure you go through our Careers page. Remember, that all our official emails will be sent from an email address having "insync.co.in" domain name only. Do not trust an E-mail having any other domain name representing InSync. In case you receive any fraudulent email / call in the name of InSync offering a job that has not been listed in our careers page or if you have any confusion regarding our job openings, feel free to email us at jobs@insync.co.in.
Here are a couple of comments we have received via emails and through other forums from the victims of the fake job invites in the name of InSync:
[blockquote]"Hello. I answered an ad on Craigslist for an office assistant. The person who contacted me said that there would be an online interview via Yahoo! Messenger. I was told that the position was for your company. After going through the interview process and being told I was hired, I asked a couple of questions re how they wanted me to proceed with the hiring process because it didn't seem like an efficient way to run a business. I haven't heard anything from them since. If this is a scam, I just thought you should be made aware of the fact someone is using your company name."
– Dianna
[/blockquote]
…and the second one is from a forum (wahm):
[blockquote]"I just made a oDesk account a week or two ago and received a job invite this morning. I have made an account on here to tell those who are looking for data entryjobs on ODesk to be aware of what happened to me.
I got a job invite and I of course took it since I desperately need some sort of job right now. They instructed me to make yahoo account and message Manager Marsha Weaver at sahiringunit@yahoo.com. The interview was entirely through instant messenger. The interview seemed legit, I ended up getting the job after a 30 minute hold. They instructed me the training was to be $15/hr and once I started working it would be $21/hr. They insisted I could chose my hours, get benefits and all the good stuff. Now things started to get fishy, she told me then that I would be receiving a check in the mail for me to purchase the "software" required for the job duties. She made sure to instruct me that I could not purchase any other software other than what the company had been using. The website she gave me was Integrating eCommerce & Marketplace with ERP – InSync Tech-Fin"
– kyle121[/blockquote]
If you are regularly using these sites like oDesk or Craigslist, please be alert for this scam and don't forget to report the person doing it and also please pass along this information in your network.
Also, read our notice here.