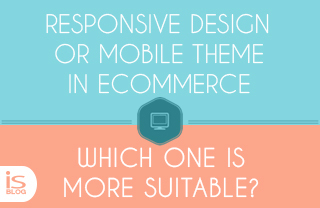 Today's eCommerce are not dependent through Desktops/Laptops, buyers use multiple devices at different places, starting with Laptop in the morning when checking and replying emails, Smartphones on the move while in traffic, Desktops within Office Premises, Tablets while attending some events, and in everywhere it's a common practice to browse ecommerce sites in their free time.
So being a merchant, how you can properly represent your eCommerce website to these buyers accessing your store from different devices, it becomes the most important question now a days and two obvious answers come up- Responsive Design and Mobile Theme, but which one is effective for you?
What is Responsive Design
Responsive Design is nothing more than creating a web page that scales with the size of the device that is viewing it. Instead of having a mobile site, a tablet site, and a desktop site, you can now have one website that adjusts its proportions, image sizes, menus, etc… based on what screen size is viewing the page.
What is Mobile Theme
Mobile Theme is a lightweight appearance of the main website mostly designed for a particular type of device like 10 inch Tablet, Smartphone version, etc. often for an ecommerce website multiple mobile themes are maintained for different devices. Mobile themes have less contents and different look & feel to suit the Smartphone or Tablet browsing.
Responsive Design vs Mobile Theme – General Pros and Cons
Google has published an excellent head to head comparison on this topic, let's see that first:
Google concentrates in every website, but in this article we will concentrate on eCommerce website.
Responsive Design V/S Mobile Theme- What Developers says?
eCommerce Platforms like Magento, PrestaShop and 3dcart where often we use many extensions even in the front end of the website which impacts on some design changes (Like Zoom/Preview Feature, Color Palette), it is not easy to implement this in Mobile Theme/Mobile version of the website, you may need to build these extension features from scratch.
Conclusion- Responsive Design is better option when you are using third party extensions in front end
If you have preexisting Online Store which is not hugely customized, Mobile theme is a better option to install into that scenario. It takes much more time to design and implement a responsive theme into a system such as Magento compared to simply installing a mobile theme.
Conclusion: Mobile theme is a better candidate for preexisting simple eCommerce sites
Design in any ecommerce website are regularly changed/modified for better representation, if you are using Responsive Design, you need to make these changes only once and it will be compatible with all browsing devices. With Mobile Theme, you need to do these changes for Desktop/Laptop website, Tablet version of the website, smartphone version of the website, so may be twice or thrice.
Conclusion: Responsive Theme is better choice for eCommerce websites who perform design changes regularly
Responsive Design V/S Mobile Theme- Content Optimization
Responsive Theme uses a single version of the website, same URls and web pages are shown across all devices, and all the contents are optimized for all devices as well.
Mobile Theme/version usually has three approaches:
Subdomain (m.yahoo.com)
Subfolder (yahoo.com/m/)
Or same URLs but with different CSS files
For first and second approach, you need to deal with a lot of content duplication issues and your developers will need to custom code it for you and make sure that all of the duplicate URLs are pointing to the right originals.
Third approach uses same optimized content of the website and equally efficient as Responsive Theme option, but not all ecommerce will allow you to maintain the third approach.
Conclusion: At this point Responsive Design of the website has clear advantage over Mobile Theme because with Mobile Theme approach, you effort of content optimization is doubled; issue of duplicate content presence is also massive.