Reasons ecommerce-only companies should also venture into physical retailing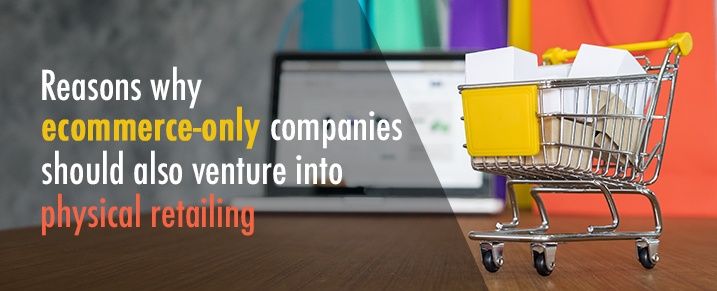 Industries that have abandoned physical retailing in favor of ecommerce might be missing out on a smart business move. Some of the hottest ecommerce-only companies such as Bonobos, Warby Parker and Indochino have forayed into physical retailing without abandoning their online business model. And they are reaping rich dividends from the move. Ecommerce alone may not always provide the value customers want. Customers still like to physically test an eyewear, footwear or fashion product before buying one. A brick and mortar location also provides great opportunities to offer incentives and develop customer relationships. So, Bonobos and Indochino have used a hybrid of online and offline business model and reaped rich dividends. And they are not spending a fortune on setting up brick and mortar stores. However, the hybrid model probably does not apply to all industries. Let's see what are the reasons ecommerce-only companies should also venture into physical retailing.
Physical retailing can boost business
Experiences of Bonobos, Warby Parker and Indochino corroborate how physical retailing can provide fillip to revenue and customer acquisition. Every ecommerce business can take a leaf out of the Bonobos, Warby Parker and Indochino experiences.
The Bonobos experiment
Bonobos is a prominent ecommerce company that sells men's products. Its ecommerce-only model, since its start in 2007, has been a great success. Still, after receiving several customer requests for physical product trial, CEO Andy Dunn launched an experiment. So, Andy had a couple of sales representatives showcase their products in the front office lobby. The result: products worth more than $2,50,000 flew off the shelf. The results emboldened Bonobos to set up Guide Shops, a place where prospective customers could take an appointment and try products before placing an order. Now, Bonobos has guide shops in more than 10 locations across the US. When you visit www.bonobos.com, on the homepage, you will see a section on "Try it before you buy".
The Indochino experiment
Indochino is a maker of top-quality customized men's suits and just like Bonobos, has been a successful online-only business till it received customer requests for physical trials. Customers wanted to first see, touch and feel before ordering custom-made suits. Indochino responded by launching its Traveling Tailor pop-up stores. The pop-up stores featured expert stylists and tailors who assisted customers in selecting the right suits. As the pop-up stores grew in popularity, Indochino introduced the pop-up stores all across North America. It also offered a $75 credit on tailoring request post purchase.
Lessons for ecommerce-only companies
One, a bulk of retail sales still happen in brick and mortar locations and not online. Customers are still more comfortable with first seeing, touching and feeling products than browsing products on an online shop. This is especially true for the fashion, clothing and footwear companies where style statement and fitment are important considerations.
Two, you do not need to splurge on setting up a physical store. You can test the waters with economic but smart experiments such as pop-up stores or hired locations.
Three, retail locations could also provide platforms for effective product promotions and customer contact acquisitions. You can invite prospects for product trials and offer prizes, incentives or discounts. You can develop long-term customer relationships.
Four, while you are setting up a physical retail store, you need not disturb your online business. Indochino or Bonobos did not need to, for example.
Is physical retailing for everyone?
This business model may not be relevant for certain industries such as eBooks and software downloads. Even PC and laptop makers can ignore the physical retailing option because prospective customers get exactly what they see and choose online.
Also Read:
Business Process Changes for B2B and B2C in eCommerce
Comparison of top hosted eCommerce Solutions