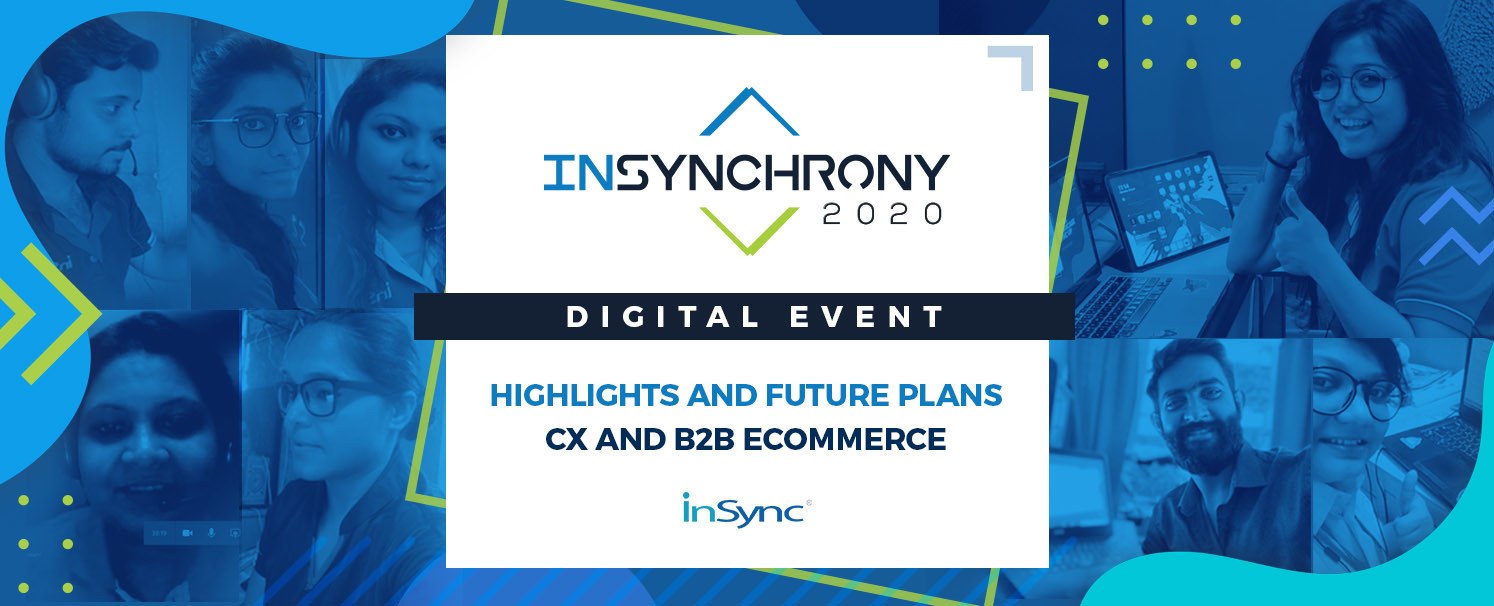 The unfortunate Coronavirus pandemic has caused the cancellation of most events and conferences across the globe, many of which have thus taken the aid of digital platforms and gone fully digital in their operations and execution. With a great year behind us, InSync was glad to be able to come back with its annual event – InSynchrony 2020, in these dire times. To those who don't know, InSynchrony is one of the biggest events of the year for InSync which is aimed at sharing, showcasing and syncing up with the endeavors and achievements of the year gone by and announcing plans and roadmaps for the coming year. The event brings forward groundbreaking product innovation and updates for partners, customers and the entire ecosystem to witness the power of data-driven business. 
Due to the outbreak of the COVID-19 pandemic, the entire world market has taken a shake. The trends have changed in the eCommerce sector with supply chain management being over-burdened. Companies have started investing more in digital expansion as the buying experience is changing with time. Organizations have started catering to clients over a digital experience more now! As said already, the coronavirus pandemic affected the entire ecosystem drastically. With no room of organizing a conference physically,  InSync went fully digital and hosted the annual event InSycnhrony 2020 online. Due to the pandemic, InSync made sure that everyone was staying at home and yet was able to attend the event. With almost 90+ participants and a hugely successful event, InSync emerged as one of the pioneers of truly digital companies. This shows where it has reached as an organization.
It was a great deed for InSync to go fully digital and offer a virtual yet personal experience to each of its employees.
InSynchrony 2020 marked the end of the successful financial year 2019 and took a leap into the giant plans of 2020. Keeping in the mind the safety and health of its employees, InSync went out of bounds to make this event go digital. This year, since conducting the event physically impossible, InSync appointed Microsoft Teams as its choice of the hosting platform for the digital event. With an easy interface and a convenient way around, Microsoft Teams proved to be the best solution to our requirements. It was a seamless experience where all the attendees felt on the same page and interacted productively without glitches. Employees even shared photographs of their home workspace to share the spirit of togetherness. 

This year InSync heavily invested in enhancing and improving Customer Experience (CX) for its clients all across the globe. InSync decided to transform itself from a single product company to a Digital Commerce Solution provider. For this, besides planning of further upgrading its popular iPaaS (Integration Platform as a Service) product APPSeCONNECT, InSync has also put in a lot of dedication in understanding and leveraging the need for integrated Digital Commerce solutions for B2B merchants. And as a result, apart from the flagship integration platform, InSync assigned dedicated focus and resources to develop B2BeCONNECT – a next-generation automated and integrated B2B eCommerce solution that helps businesses transform the way they work by inculcating out-of-the-box B2B features and functionalities to them. 
"InSynchrony is a platform to share hits and misses of the year gone by and explore the future possibilities… the efforts put behind this event are no less… The idea is to bring in transparency and align the entire team to a common goal… We take pride in providing iPaaS and B2B solutions to the global market with remarkable customer experience and ensure to bring newer innovation to our offerings. I believe consistency is the key and COVID-19 is just a phase that we need to overcome!"
Atul Gupta, CEO – InSync Tech-Fin Solutions
What happened at InSyncrony 2020: Key Highlights/Future Plans
Customer Experience (CX) Transformation Matters More Than Ever
With the growing pace of the online market and the competition among the ecommerce merchants, the need to bring and maintain a smooth and healthy customer experience is essential. Nowadays, the customer experience journey matters the most – a brand can achieve success and productivity only if it has a reliable customer base. In fact, one negative customer experience can make a merchant lose his clients. According to PwC, 32% of customers will stop interacting with a brand after a single bad experience, and 45% will switch after three bad experiences.
Knowing its global importance, it is now time for InSync to step up the level of customer experience. InSync has planned to dive deep into the strategies of a robust and smooth customer experience this year, with the idea of delivering the best customer support and the journey experience there is. Over the period of time, customer experience has become one of the best ROI contenders, and this is why it has also gradually become an actionable, monetizable goal in which companies from all around the world are investing. 

Believing in the idea of keeping the customers satisfied and happy, InSync has planned key strategies to work on. Some of them include:  
Clear customer vision – knowing who we are catering to

Understanding the customers and their requirements

Creating an emotional connection with customers for the utmost loyalty.

Capturing feedback and working on them, etc.
InSync is very glad to help its customers during this time of dire needs. It has been appreciable on its part to support and provide solutions to the clients digitally so that the business processes and their lives are not hampered. Here is what one of InSync's customer said:
" Even in these difficult times, the support we got from you has been very important. Your support saved my daughter's life. So in a way, InSync did!"
Keeping the customers happy is, in fact, true! According to Esteban Kolsky, a renowned analyst, 72% of customers will share a positive experience with 6 or more people. On the other hand, if a customer is not happy, 13% of them will share their experience with 15 or even more.
Also, the way the online market worked has changed significantly over the period of COVID-19. Consequently, a changing trend has come to play in the customer experience industry as well. Earlier what used to be a personal level, interactive, relevant, real-time customer experience actions, are now taken over by digital, secure, quick responses that support the critical needs of the time.
B2B is the New B2C
With the changing trend of the market, not only individuals but also businesses are adopting the online arena to expand their operations. In recent years, the B2B module of business has grown exponentially with major business organizations investing and adopting it. It is now the game of organizations making endeavors in creating and retaining customers. Since a B2B solution provides more power to the users, global leaders and intellectuals believe the next way of progress in the online industry is through B2B eCommerce.
Consequently, creating a seamless, convenient and intuitive customer experience journey for B2B buyers is crucially important. Focusing on the buying roadmap of the customer to deliver a world-class shopping experience is the top-notch priority in the market. It is also important to note that most of these B2B buyers are tech-savvy millennials who are the best judge of how robust and clean your customer experience strategies in the B2B arena are. With the regular buying processes, the millenials treat B2B as the new B2C and it is these millenials the business organizations would target to skyrocket their supply chain management and expand as a brand. As a matter of fact, in organizations, 73% of the millenials provide direct input in the B2b buying process and around 34% act as decision-makers. 

With the inevitable outbreak of the global pandemic Coronavirus (COVID-19) in 2020, the inevitable change of the B2B industry landscape has also taken place. The pandemic has made B2B merchants and buyers transform the way the market worked – B2B distributors of medicines and safety equipment are gaining huge demand and so are the manufacturing units; on the other hand, suppliers are being hoarded with orders but are unable to provide the raw materials. The supply chain management has been definitely hampered by coronavirus – we do see companies making investments on their existing commerce sites to address the concerns around demand and supply. A significant rise in the online presence of B2B players has been noticed, with more people approaching brands on a digital level. Also, this pandemic has brought a change in the delivery styles for B2B merchants and organizations are stepping up to cater to this "new normal".
To cater to the growing B2B demand in the market, InSync feels proud to bring forward its flagship B2B platform – B2BeCONNECT. B2BeCONNECT is a next-generation automated and integrated B2B eCommerce solution that helps businesses transform the way they work by inculcating out-of-the-box B2B features and functionalities to existing websites. This solution helps a merchant step into the B2B arena and provides limitless power to customize business processes according to their requirements. Merchants can now provide a frictionless buying experience and gain loyalty and business growth, all at the same time.
Ensuring Health and Safety of the Employees
Keeping the COVID-19 issue in mind, it was a remarkable effort by InSync to conduct this annual event entirely on a digital level. With over 90 attendees, InSync showed how nothing could stop them. 
The health and safety of its employees have always been a major concern for InSync and this year they did all in their power to fight back the pandemic. The Work-From-Home culture within InSync is strong with employees working professionally and tirelessly to meet ends. In the time of this global slowdown, it is important that organizations and employees maintain job security and that's what inSync is doing. According to Mr. Atul Gupta,  "We need to put in twice the effort to come out stronger from this situation."

With more and more companies working remotely during the pandemic, it is only a matter of time when this remote working becomes a new trend and a new way to work. InSync is all game for this – believing in the idea of constant innovation, InSync has proved to be a true digital organization. InSync has already taken endeavors and steps to support the new ways of remote working – implementation of robust tools and processes to ensure the smooth running of systems, employing better tools of communication to reduce gaps between employees, setting up a digital workplace, etc.
Even though the stage and the amazing food was missing this year, Insynchrony 2020 paved a way for individual employees to know and interact with each other. With interesting quizzes and games, InSync helped in bringing all the people together and sharing a sense of the company culture of being a family.
InSynchrony 2020 marked a major breakthrough for the company, while pushing the world of digital commerce into further progress with a vision of bringing a brighter future for businesses in the world of technology and connectivity.
InSync hopes to keep innovating and developing technologies to bring out better solutions for businesses in the coming times. As Atul said:  "As a company, we believe in the mantra that Connections Matter and Connections are the way to grow!"
See you next time!
Stay Safe. Stay Home!
---
InSync Tech-Fin Solutions Ltd. is a technology company based in India with the mission and vision of digitally transforming the way businesses work and deal with their data. We design, develop and integrate digital commerce solutions that accelerate growth and improve efficiency. 
We offer a smart Integration Platform as a Service (iPaaS) solution – APPSeCONNECT, which connects multiple applications together and streamlines complex business processes. We also provide integrated B2B eCommerce solutions – B2BeCONNECT for platforms like Magento, Shopify, WooCommerce, etc. to help organizations delight their business buyers with robust B2B features.
Get started with your B2B eCommerce store and gain a competitive edge in the market! Also, connect all your business applications under one single platform to automate the business process!
---