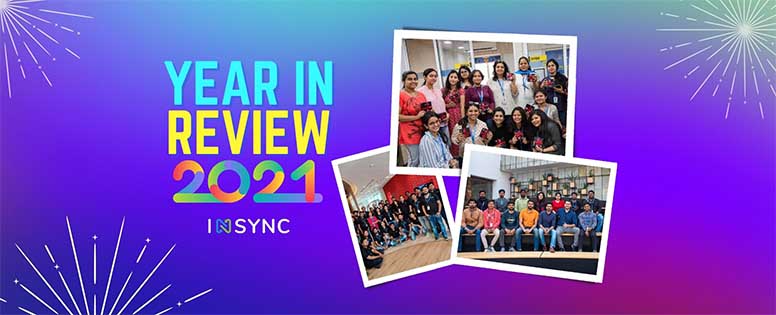 2021 is on its last page and there is no better way to welcome the new year than going down the memory lane. This year was a rollercoaster ride for INSYNC and the company experienced a more connected connection between the work, its productivity, and the people. We witnessed some great innovations and development throughout the year, overcame some of our biggest challenges and strived to offer better and more capable solutions. In the current pandemic situation, we held our heads high and kept going no matter what! The year 2021 taught us to be more adaptable and emerge stronger together as an enterprise organization, transforming not just businesses but also ourselves. Here's to 2021!
2021 – A Year that Went By…
2021 was a fun-filled productive year for INSYNC as it concentrated its focus on major items from past releases. The year was filled with new challenges, new ideas and solutions and new opportunities. Our team worked day and night to improve our integration solution and conclude designs that cater best to our customers. Talking of customers, we are happy to announce that the INSYNC family is now 1250+ customers strong and growing! We thank you all for being a part of our journey.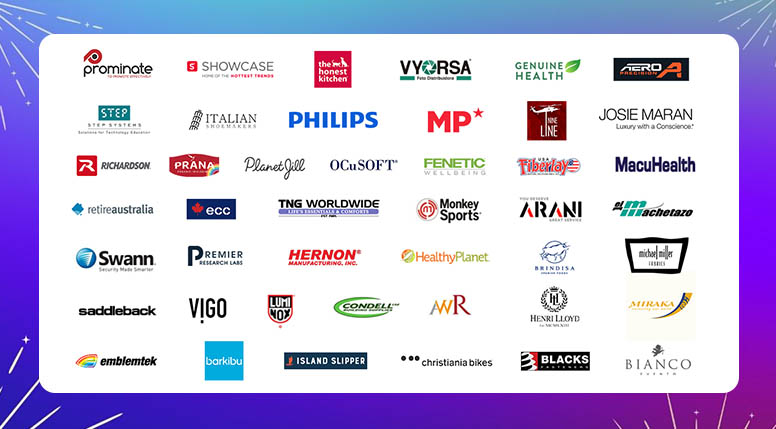 In 2021, we achieved certain milestones and were proud to be a part of various notable mentions across the digital platform due to our solutions.
We developed new in-depth integrations for SAP S/4 HANA, BigCommerce, Shopify and Uniconta.
We enabled a complete Digital Commerce solution through Microsoft Dynamics 365 CRM.
We enhanced our cloud integration engine and achieved groundbreaking improvement with our ProcessFlow Designer.
Want to eliminate your eCommerce challenges and gain excellence in your business? Employ our robust B2B eCommerce Platform that helps you transform your eCommerce game. Get started with your B2B eCommerce store and gain a competitive edge in the market!
Also, if you have multiple systems running in your business, connect all of them under one single platform to automate the process and improve your productivity and efficiency!

Though the year was looming with the fear of the Covid-19 pandemic, INSYNC made sure that the community, the company and the people were taken care of. With productivity on one side, INSYNC took up humanity on the other. Amidst these dark times, INSYNC took the responsibility of its employees and their families by organizing a Covid Vaccination Drive and vaccinating them all, while keeping all the community norms in mind. This gesture dissipated unfathomable fear, insecurities and doubts from hundreds of families and helped offer a peaceful state of mind during the harsh times.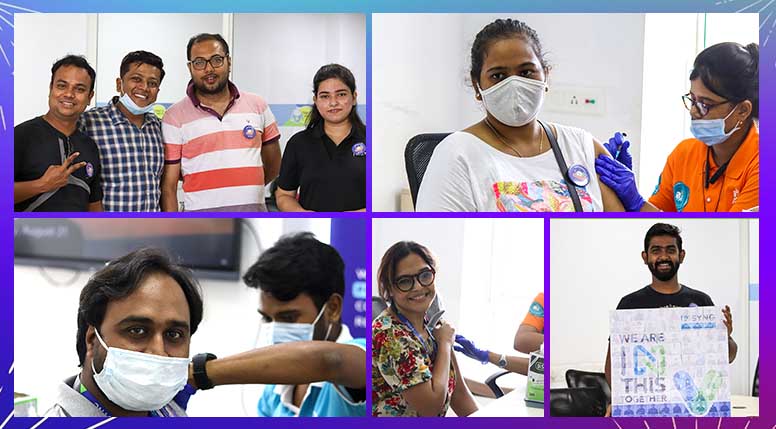 In the year 2021, we also took the time of acknowledging our esteemed customers, partners and associates with gift boxes filled with love, appreciation and much more! Again, we thank you all.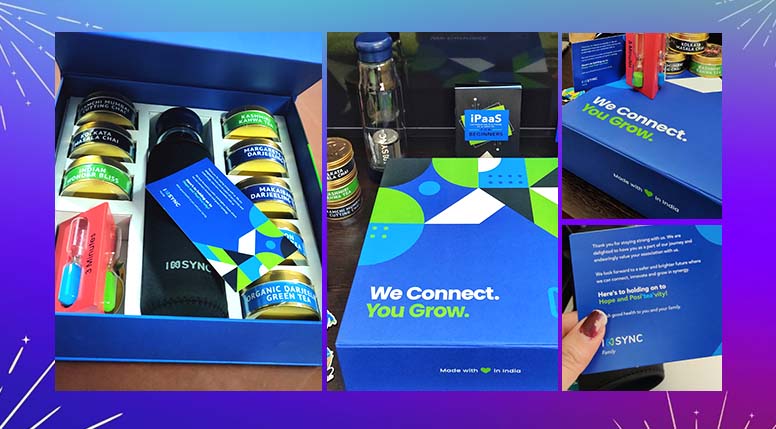 With 2021 strengthening us in many ways, we also took the opportunity to revise and successfully employ our Business Continuity Plan to ensure sustenance, offer top-notch delivery and perpetual growth for us, our customers and partners.
2021 also witnessed us rocking the Hybrid work model with the entire being virtually and physically connected across various platforms all throughout the year. As an enterprise organization, we also strictly maintained all the necessary Covid-19 protocols and government norms so as to restrict the spread of the pandemic. With the flexibility of the Hybrid work model, INSYNC succeeded with the power of "together" and made sure that the team was connected through work and play.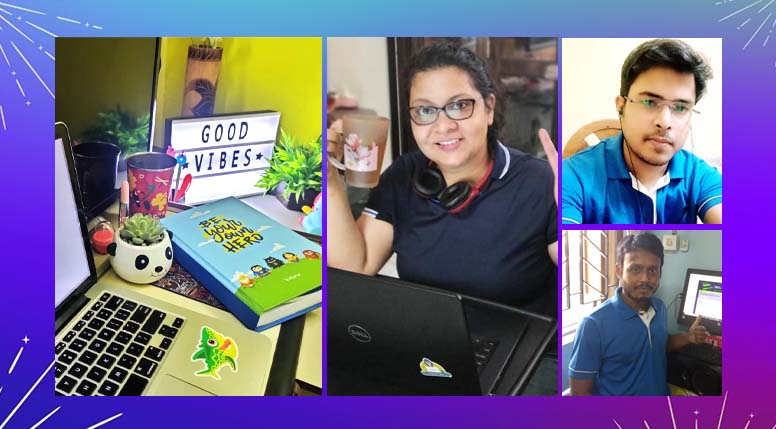 We successfully organized various hybrid team events in the year like Hackathon 2021, Blogathon, InSynchrony 2021, Synchrotron sessions, Team party and Departmental team lunches. These events brought the team together and reignited the energy we needed.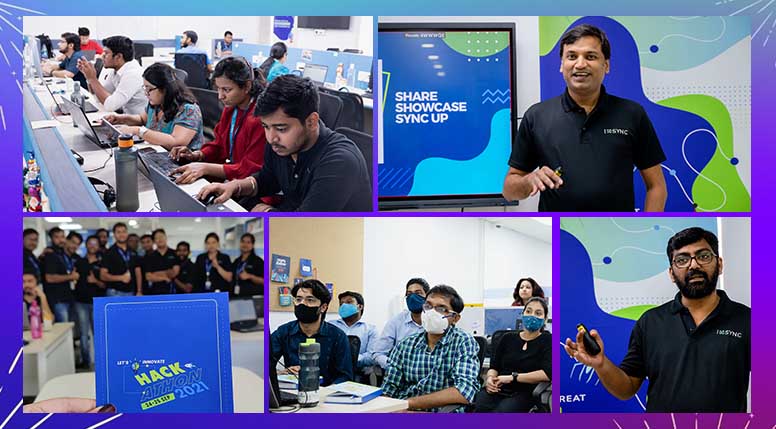 We also successfully introduced Workation for our employees wherein they can visit distant vacation destinations and yet work from there!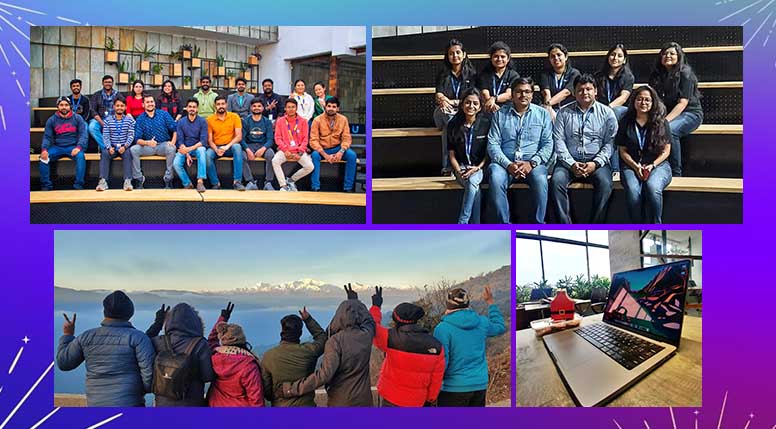 As a team that is culturally and socially connected, we also celebrated various holidays and festivals together like Women's Day, Saraswati Puja, Father's Day, Durga Puja, Diwali, Christmas, etc.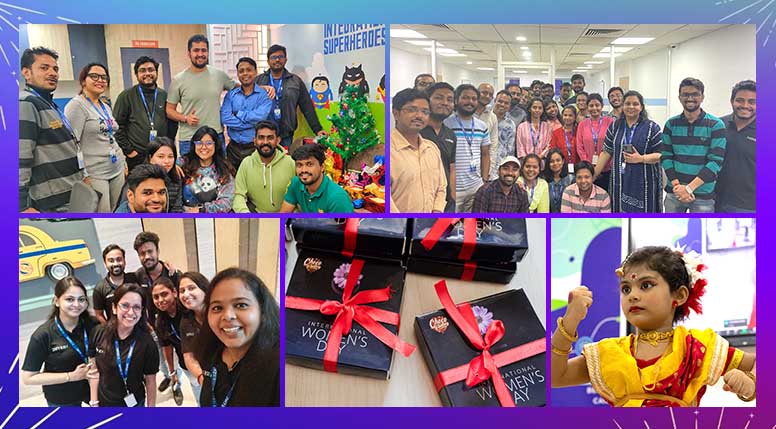 2021 was a challenging year for us but we are glad we took it in great spirits and came back stronger. What held us through this rough time was our Hope, Trust and Faith that with connectivity, we can overcome all of it. The year taught us to be more agile and grow together and has brought the team closer than before. INSYNC acknowledges the continuous help and support of those who stayed with us this past year and helped shape our lives and business amidst challenging times. INSYNC welcomes the new year with greater enthusiasm and zeal. Here's to a year of Healing, Hoping and Growing Together!
As we always say, We are In This Together, We are INSYNC!