InSync wins 'The Most Buzzing Group Award' at Airtel Run for Education 2019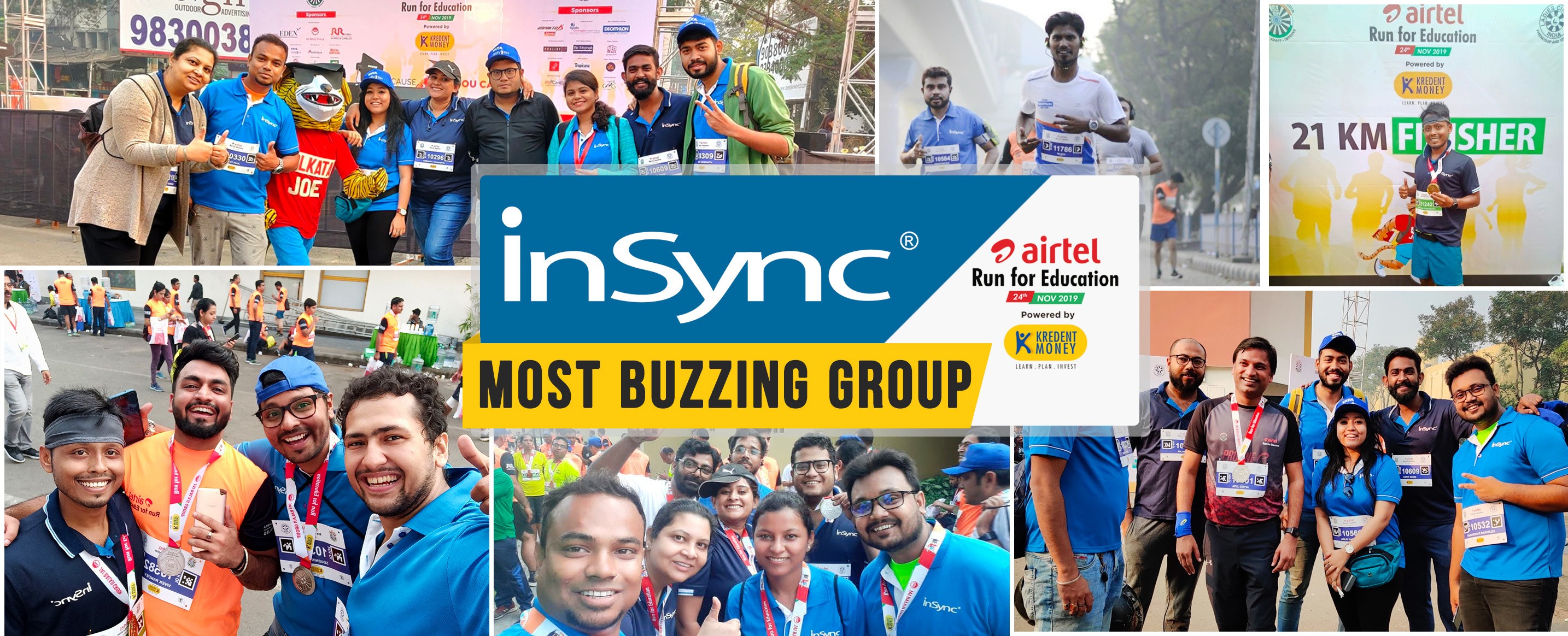 InSync Tech-Fin Solutions is an organization that has always put the health and wellness of its employees their top priority and encourages them to move forward. InSync shares a history with Airtel Run for Education, the most loved half marathon of the city, and was glad to put their best foot forward for the 6th time in the event. The 6th edition of this flamboyant event was held on the 24th of November and brought together around 8000+ runners and enthusiasts from across the city and beyond to participate and witness this initiative. The event was jointly organized by Bharti Airtel, Round Table India & Ladies Circle India and was categorized into 4 running categories – a 5Km Fun Run to bring along citizens from all walks of life, a 5km timed run designed to encourage new participants, a 10Km run for practiced runners and a 21Km half marathon. Since 2014, Airtel Run for Education has started its journey, establishing the idea 'Freedom through Education'. The aim is to provide education to the less privileged and bring a brighter future for them as well as society.
The event was set to start with the 21Km run at 5:15 a.m. and all the participants of the run were overtly excited to be there. Famous RJ Praveen was on-stage to boost up the runners and bring some hype while warmup sessions were conducted by fitness maestros to encourage the legion of people present. Race Director and our CEO Mr. Atul Gupta was called on by RJ Praveen to encourage the participants and join them groove with the music. The race was flagged off by Mr. Siddharth Sharma, CEO, Bharti Airtel Ltd. West Bengal Telecom Circle alongside Mr. Atul Gupta,  AFRE Race Director, Mr. Anshul Anand, Head Marketing, Bharti Airtel Ltd. West Bengal, Mr. Piyush Daga, President, Round Table India, Mrs. Nidhi Gupta, President, Ladies Circle India, Mr. Nishant Khetwat, Chairman, Calcutta South Round Table India 17, Mr. Kunal Khilani, Race Mentor.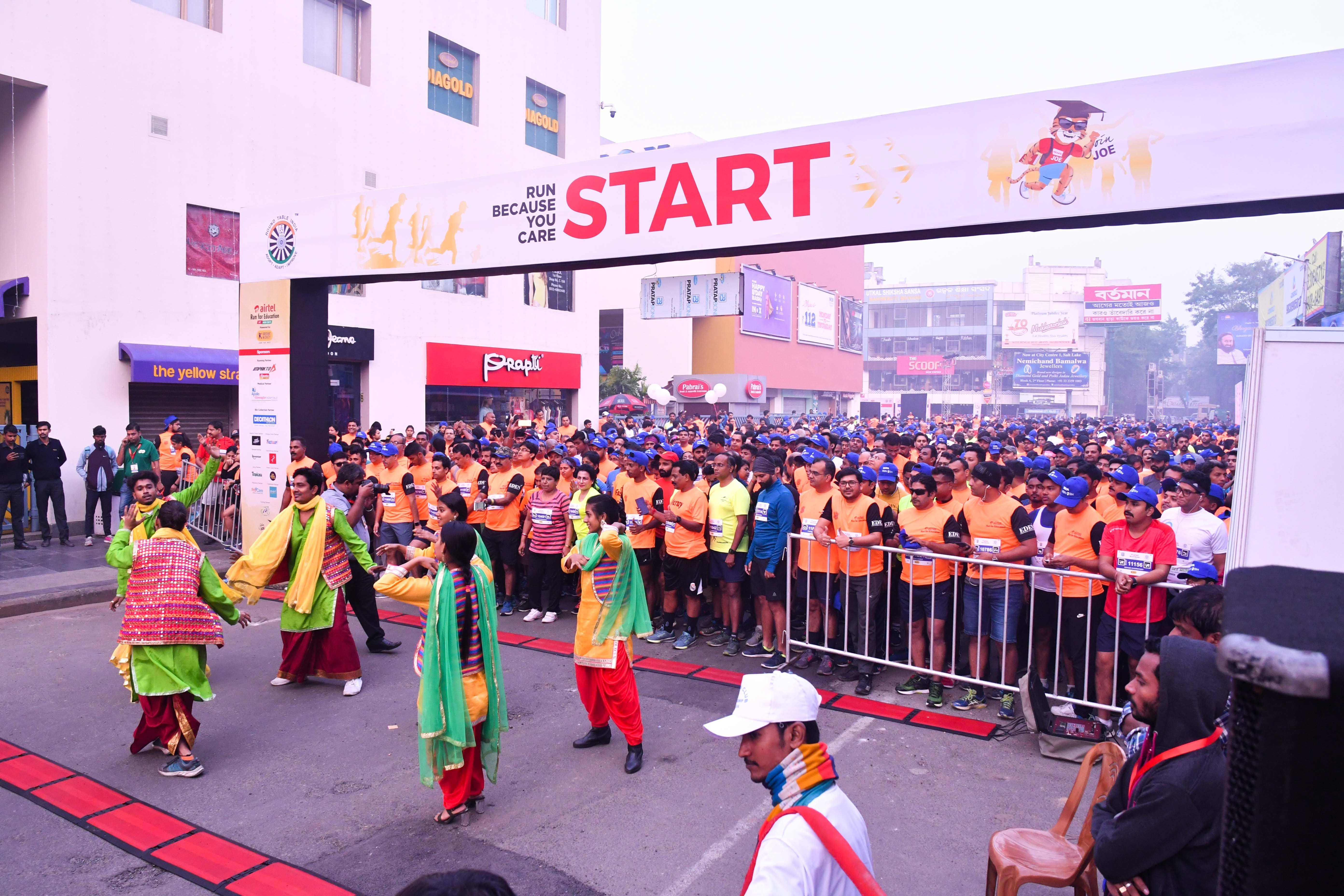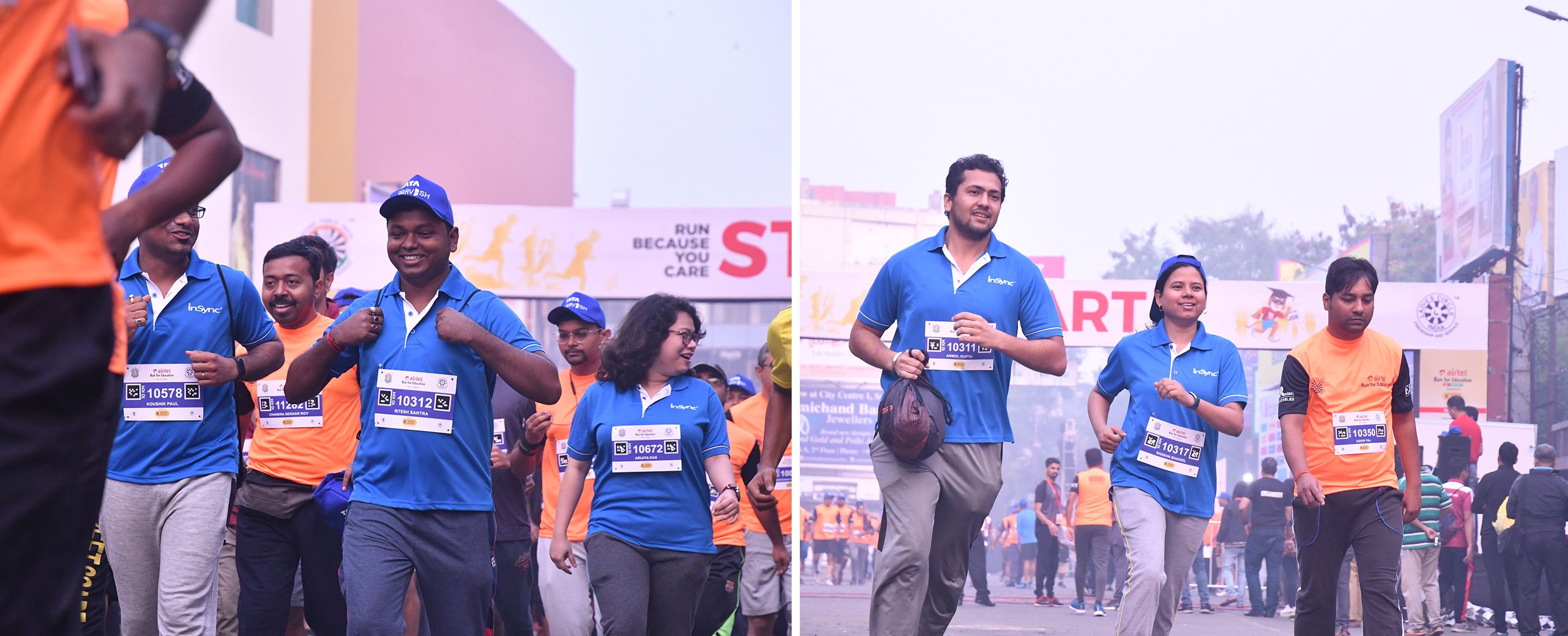 Team InSync was delighted to be a part of this marathon with around 40+ energetic participants and won the 'Most Buzzing Group' Award. Mr. Arindam Chakrabarti, an enthusiast, and a practiced runner from InSync, finished his 21Km run and said it was the finest marathon he has participated in as of now!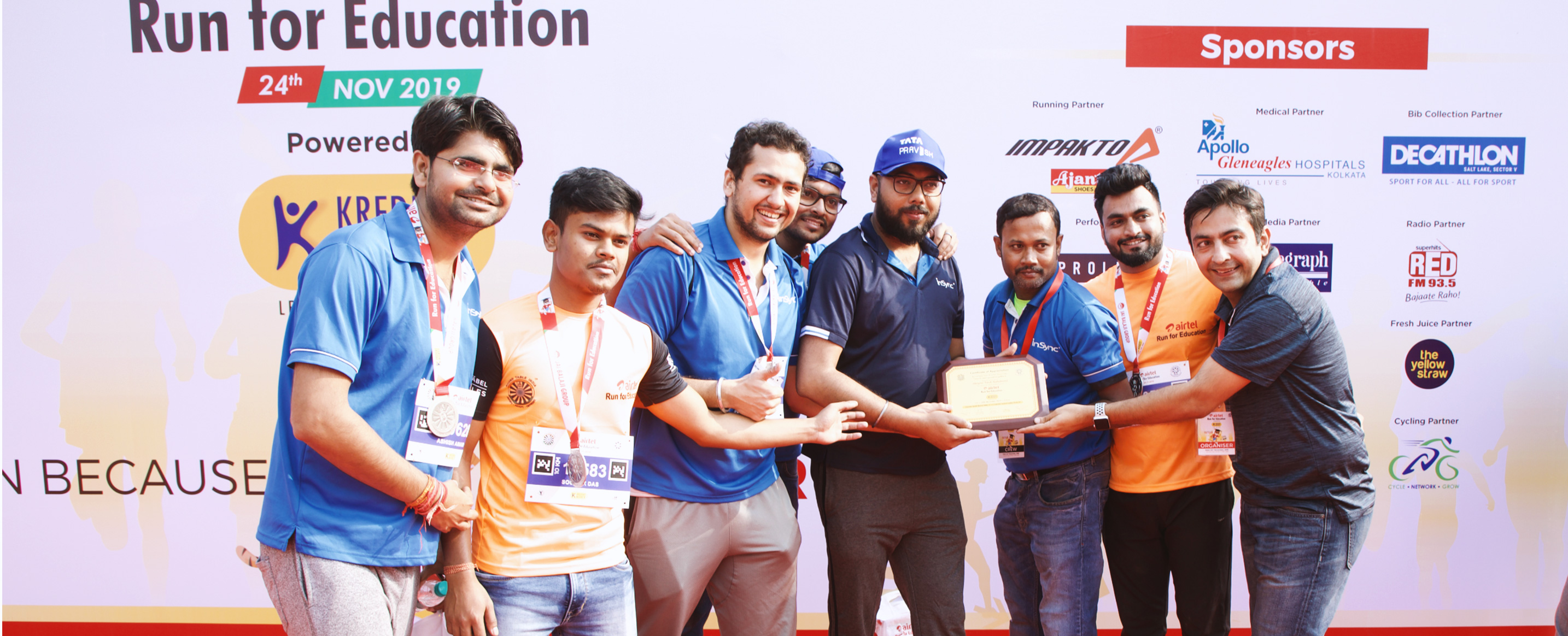 We would also like to take the time out to recognize Mr. Uday Kumar, a 31-year-old specially-abled running enthusiast who completed the ARFE 5Km run. His run at Airtel Run for Education 2019 was sponsored by InSync to appreciate and acknowledge his sportsman spirit and his love for running. He, unfortunately, met an accident in 2015 and lost a leg. With his amputated leg, still being 91% disabled, Uday has already completed several runs in West Bengal.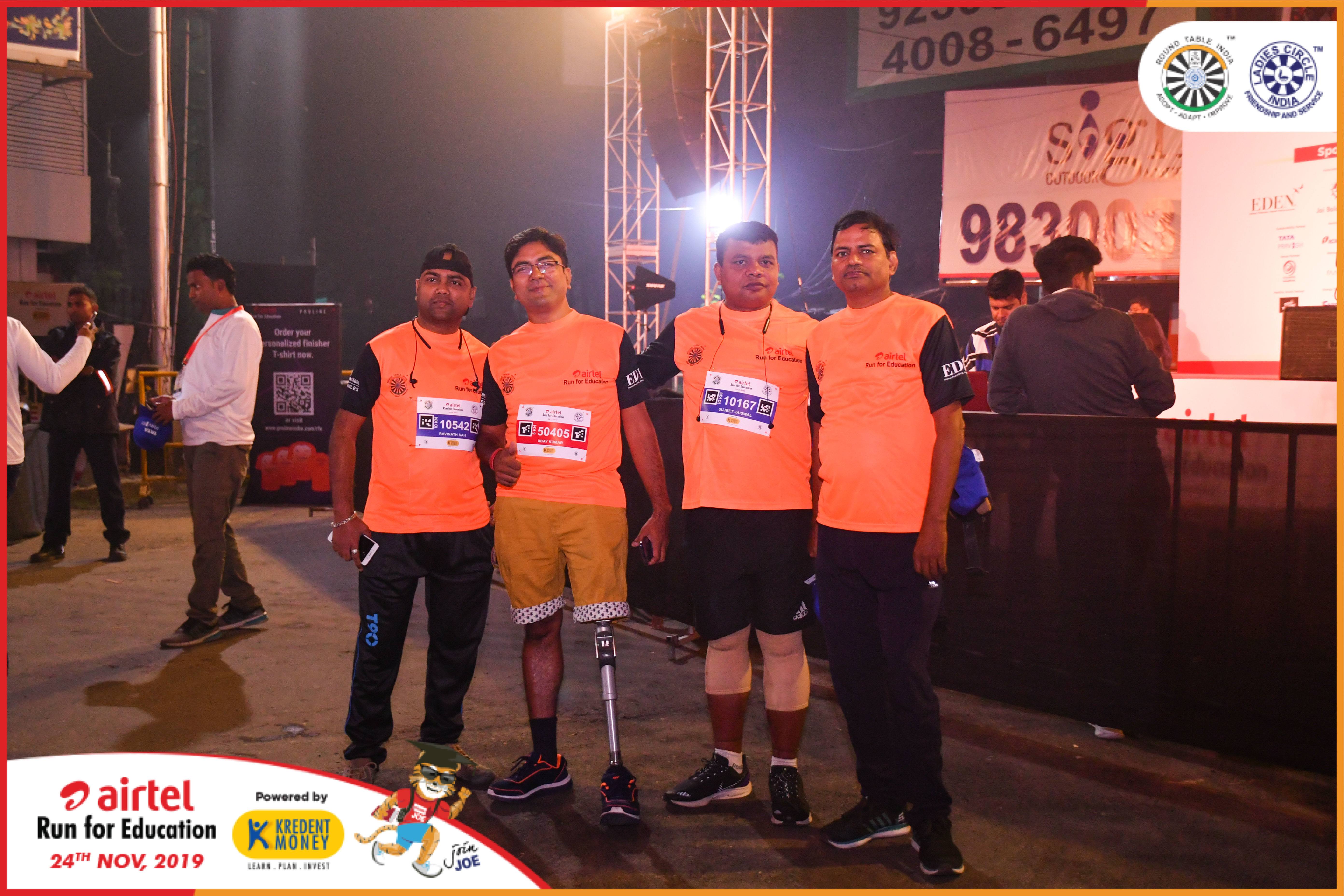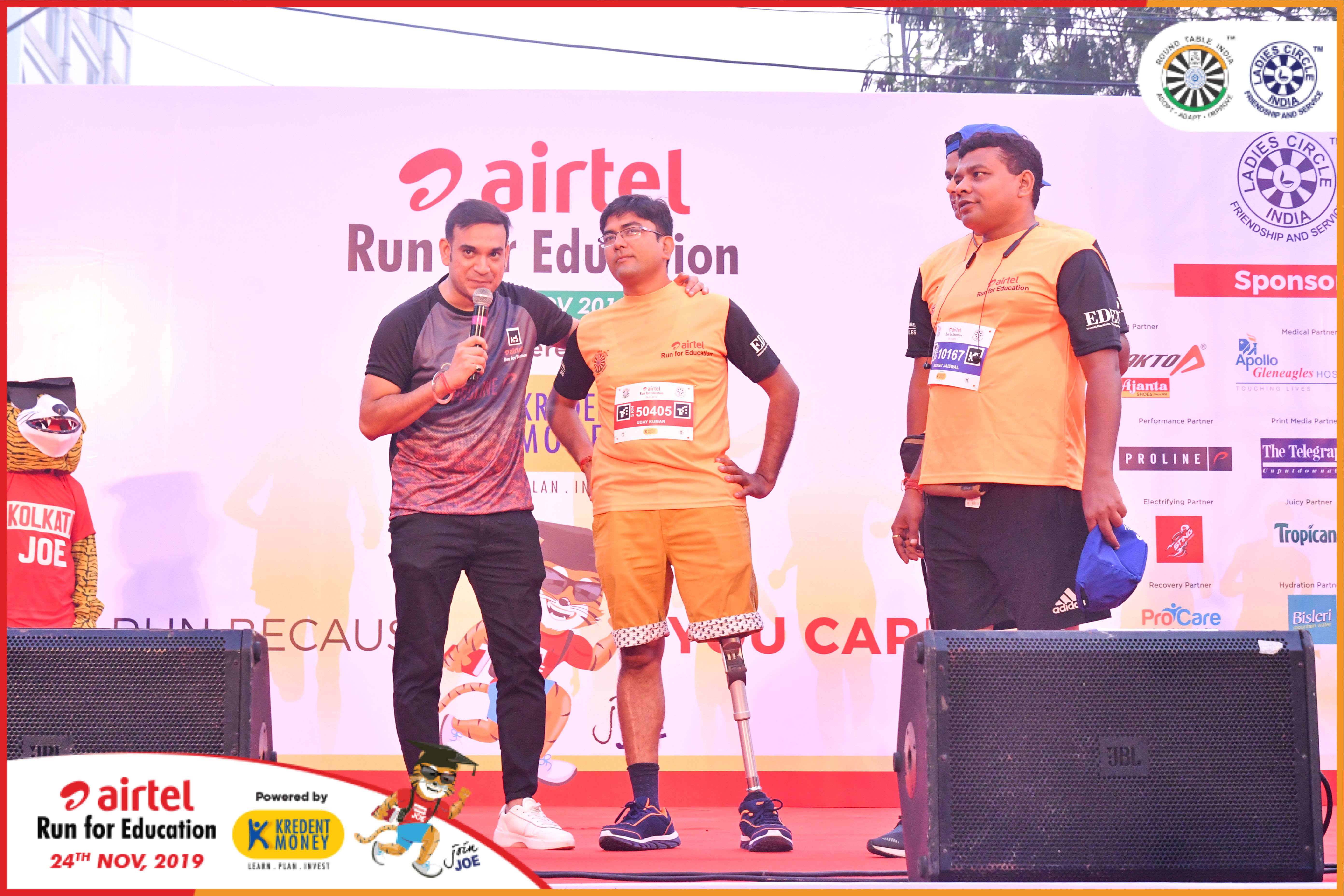 The sixth edition of the half marathon also took the initiative to keep the entire half marathon route trash and pollution-free by conducting a plogging activity on the route in association with Techno India and HSBC Bank. Dedicated runners plogged on the run route to eradicate the plastic pollution that occurred during the event. Reusable bags were used in this activity and the whole initiative saw huge appreciation and encouragement from everyone present. 
Airtel Run for Education 2019 also celebrated the spirit of those strong humans of the society who have survived cancer and come out as the strongest among us all through the Cancer Survival Walk. Arranged in association with Apollo and inaugurated by fashion designer Agnimitra Paul, this 1.3km long walk was taken up by about 120 cancer survivors and supporting staff from Apollo. The walk started at 8.00 am and added another gush of pride and joy to the half marathon. 
The spirit of enthusiasm never fails when it comes to Run for Education. Be it for the fitness freaks or for the societal cause towards education to the underprivileged children, InSync never steps back. Once again, we are looking forward to seeing you the next year. Hope to meet you soon!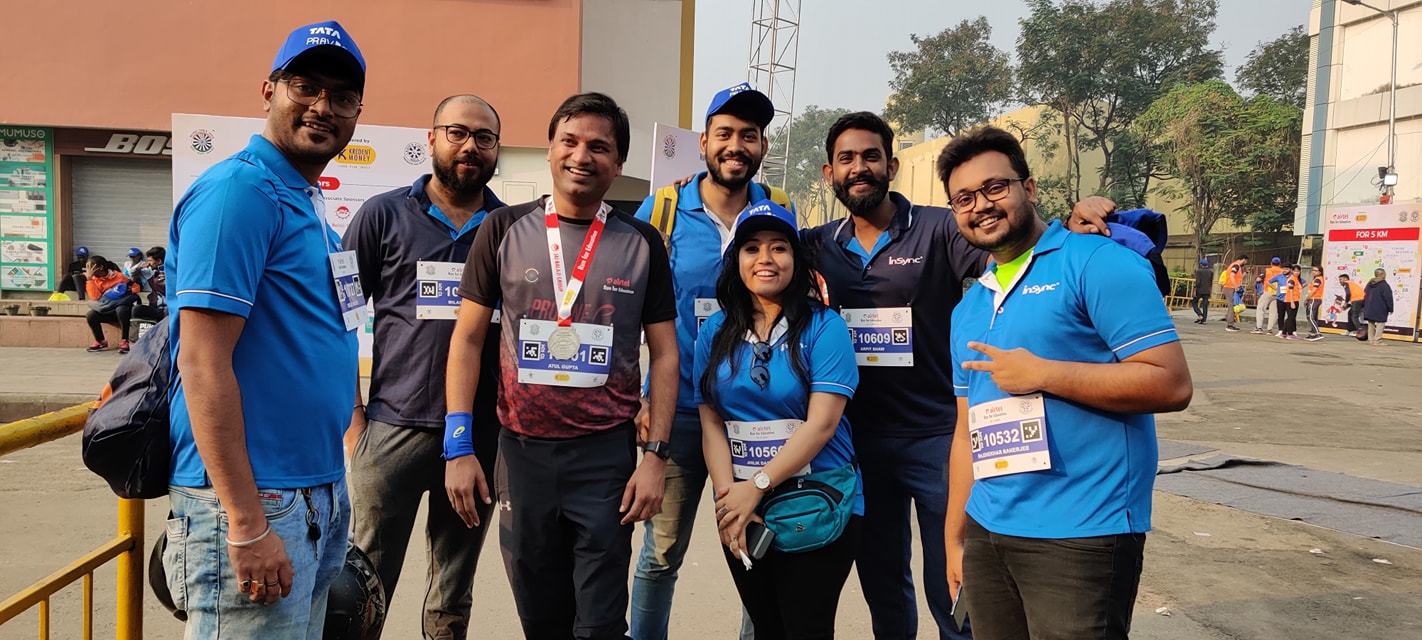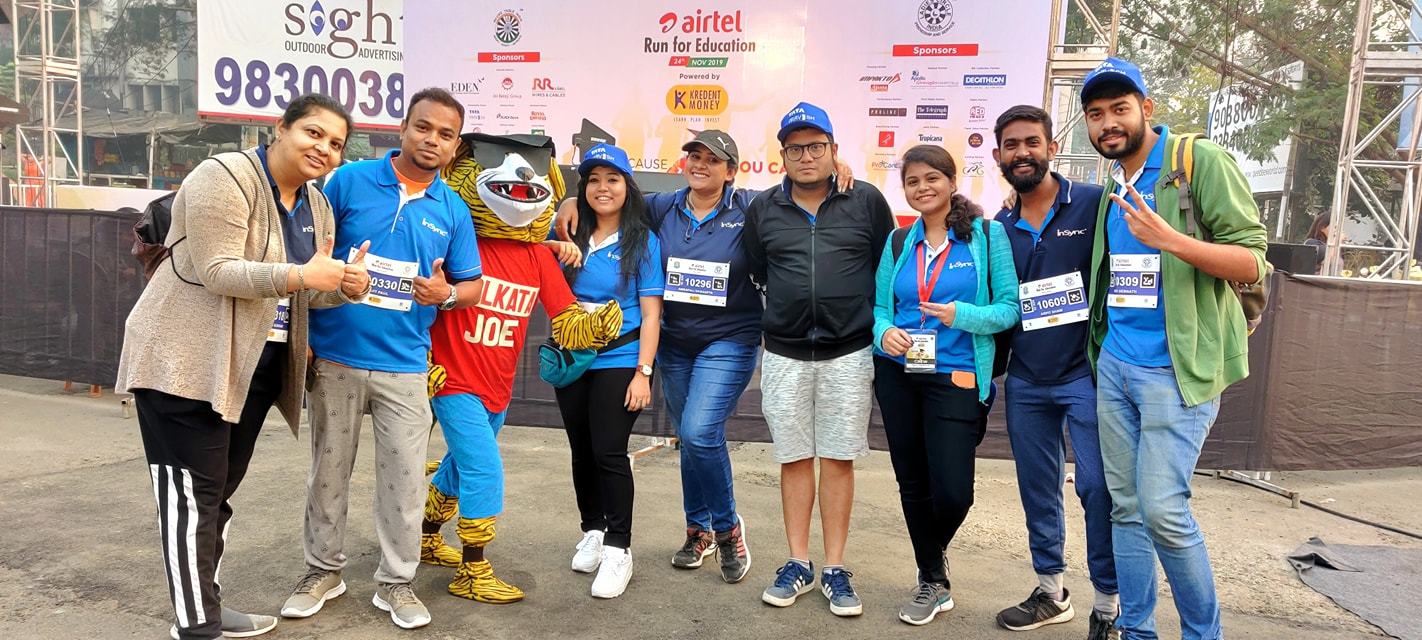 ________________________________________________________________________________
You may also like:
InSync Gears Up for the 6th Edition of Airtel Run for Education
InSync bags 'The Most Vibrant Corporate Award' for the Second Time at Airtel Run for Education 2018
Corporate Health and Wellness Initiative at InSync