InSync – Proud Technical Partner of Kiddathon Kolkata, 2015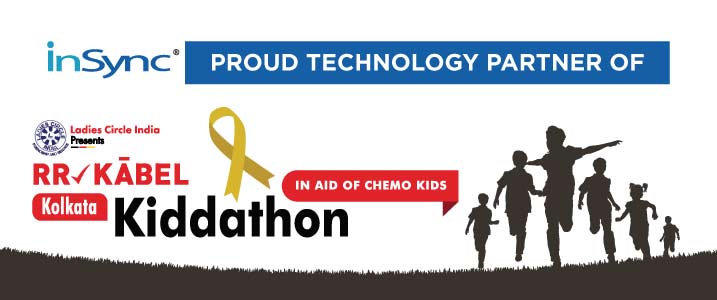 Cancer being one of the most common causes of death among children is a serious threat to the society. Most of the children suffering from cancer die due to lack of proper treatment, care and awareness. Calcutta Central Ladies Circle 27 (CCLC) has focused on the mission of enhancing the lives of children and their families affected by childhood cancer (which prevents children to live their 'childhood') by providing them programs for recreation, education and support.
In order to raise fund for this noble cause CCLC has organized KIDDATHON, 2015 at Kolkata on 6th December, 2015 at SAI Sports Complex, Salt Lake.
Calcutta Central Ladies Circle 27 is working to improve the state of these kids and to empower them by making sure that they get proper treatment and the society is well aware of the causes and prevention of the same.
InSync is the Technology Partner for Kiddathon 2015 event and is honored to be associated with the event to serve a noble cause for the wellness of children suffering from cancer. We believe that a society with proper awareness can be more secure from such life threatening illness. We are working towards spreading awareness about the event and to make sure that the maximum number of people come forward and join hands for the cause.
Be a part of Kiddathon, 2015:
[button link="http://www.meraevents.com/event/kiddathon-2015″ size="small, medium, large" target="_blank or _self" icon="cog" color="white, yellow, orange, red, blue, green, gray, black, alternative-1, alternative-2, alternative-3″ lightbox="true or false"]Register Now[/button]