InSync join hands with Amount IT to offer specialist B2B2C eCommerce solution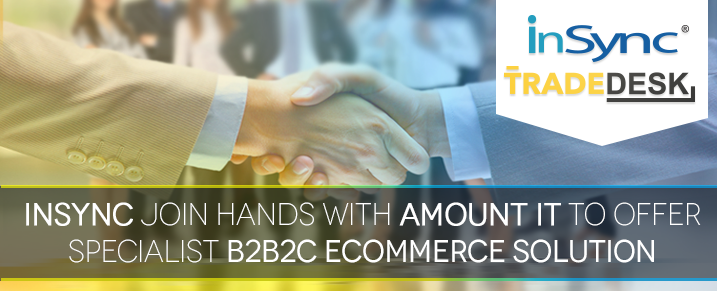 It's a proud moment for InSync Tech-Fin Solutions Ltd (InSync) as we have collaborated with Amount IT Pvt. Ltd. (AmountIT) for providing our clients a top most integrated e-commerce experience. We are offering an extensive B2B2C eCommerce solution as front-end and ERP as a backend. This solution will be powered by TradeDesk.in.  Mr. Ravi Kedia, founder of Amount IT Pvt. Ltd. has been a consultant for InSync Tech-Fin Solutions, which integrates e-commerce portals & marketplaces with popular ERP systems like SAP & MS Dynamics, to help eCommerce businesses operate more systematically. Ravi, being a proven e-commerce designer, developer and deployment consultant, is steering the development of a B2B2C eCom solution called: TradeDesk.in. This laid the foundation to our partnership criteria of this e-commerce focused solution.
Our partnership awaits a grand outcome as we are planning to offer a comprehensive B2B ecommerce model using TradeDesk by connecting the portal and mobile app for back office ERP integration across popular systems like SAP Business One, SAP ECC & Microsoft Dynamics NAV. In this partnership program, AmountIT would act as the e-commerce portal along with app developing partner and InSync would connect this platform to a backend ERP system through their pioneering solution named "APPSeCONNECT".
This integrated e-commerce solution allows B2B2C e-commerce businesses to access and process Web Sales Channel details. This solution connects the sales channel from the product owner to the end consumer, thus, helping the businesses to raise a bottom-up demand. It connects the product owners with their distributor network, the distributors connects with their resellers, and resellers with the consumer. All in all, it improves customer satisfaction and poses to provide them with the next level of e-commerce experience.
Committed to build and foster an enhanced & effective e-commerce ecosystem, both the companies have entered into an exclusive partnership model, whereby, AmountIT will play the role of e-commerce design and as development expert & InSync Tech-Fin Solutions will provide its award-winning connector between the e-commerce/marketplace platform and the backend ERP systems.
What made inSync collaborate with AmountIT is the established confidence in working with Ravi, who supported inSync during their successful 10 years of implementations for B2B eCommerce solutions, wherein the front-end was re-engineered on the Magento platform. Magento, being a B2C eCommerce platform has some limitations for the B2B businesses. Now, TradeDesk is designed to further enhance the level of user experience particularly for the B2B businesses, in order to strengthen their sales & distribution channel.
All of these helped us sign a partnership deal with Amount IT Pvt Ltd and strategize the e-commerce offering for customers.