InSync Tech-fin Solutions is a company that aims at digitally transforming businesses and industries in the ever-growing tech-savvy world and equips business owners with the tools and solutions that help them skyrocket their business, increase their productivity and enhance the overall efficiency. InSync Hackathon, an annual competition event, is a 34-hour long work sprint where employees strive to produce groundbreaking innovation and achievements that mark the perpetual growth of our company. This event showcases the uninterrupted developments and achievements of employees working in teams to finish projects and deliver best-in-class solutions.
InSync recently organized its annual hackathon event – InSync Hackathon 2020. InSync Hackathon 2020 was InSync's first-ever hybrid-model hackathon to support the inconveniences of the pandemic. Since all employees could not join the event physically from the office, the event was aided by digital communication and employees joined from home as well. With this hybrid approach, while some drove the entire projects from their cubicle, the rest made sure to put in their efforts even from home as well. However, even though the office wasn't a full house, InSync Hackathon 2020 was no less than a festive time with over 17 teams trying to bring out their best and enjoying what they do – bringing disruptive ideas and new technological advancements on the digital front that would bring a complete functional revolution into the global IT ecosystem.
InSync Hackathon  2020 – The Hybrid Hackathon
With over 17 teams participating in this amazing event, InSync Hackathon was set to be a huge hit with a number of teams developing and working on some of the best-featured projects. Even though the physical meeting of all the employees was not possible, everyone was very well-connected to each other over Microsoft Teams, our official collaboration solution. While some of the employees went to the office (the number being restricted to 15), the others stayed home but delivered the same amount of dedication and perseverance for their projects. InSync Hackathon 2020 was scheduled through the 16th and 17th of October for a stretch of 34 hours and marked a diligent competition between all the teams.
The teams were mentored by 5 mentors including Abhishek Sur (VP – Product), Jhilik Dasgupta (VP – Marketing), Samarendra Ghosh (VP – Technology), Sagorika Sanyal Goswami (VP – Talent Acquisition) and Suvajit Malik ( IT Project Manager). The entire event was built on a thoroughly planned foundation, every building block of which was meticulously taken care of. The mentors constantly lent their support to every team at every required juncture. If it was not for them, none of the projects would have got the appreciation they did.
One of the most different and exciting experiences of InSync Hackathon 2020 was this year's Review Procedure where a team of 4 judges reviewed projects by the teams and provided timely guidance and tips to help them better understand the scope of the projects, the approach they should take, how they can overcome the challenges and what might be the best ways of completing their deliverables. This year, the review was done digitally with the review panel consisting of Avijit Paul (VP – Delivery), MD Riaz (VP – Customer Relations), Narottam Das (VP – Process Strategy) and Subhajit Goswami (VP – Global Business Development). Our esteemed CEO, Mr. Atul Gupta was also present in all the reviews and provided encouragement and enhancements to many of the teams.

During the planning phase, we were quite perceptive as to how a hybrid-model hackathon would turn up to be. However, with the huge success that the event has got, pulling off InSync Hackathon 2020 marks a huge achievement for InSync as a well-connected and streamlined organization. Every employee present in the event contributed to its success and some of the most dynamic and disruptive projects to come up include the introduction of AECOne, a robust data migration calculator, integration support for a ton of new applications, more powerful B2B eCommerce offerings and the launch of InSync Commerce, a streamlined, automated and integrated omnichannel B2B eCommerce experience for businesses.

While some of the employees were at the office and some at home, InSync made sure they all felt the same and were connected throughout. For the ones who went to the office, InSync organized a two-day breakfast-lunch-dinner plan along with snacks at regular intervals, along with a goody bag to take back home. However, for the ones who could not join the office, InSync sent amazing goody bags and food hampers to keep the spirits high. After all, a full stomach and a happy heart are what help us achieve what we want. We also organized a simple picture contest on Facebook for the employees and the winners won amazing InSync-branded travel bags.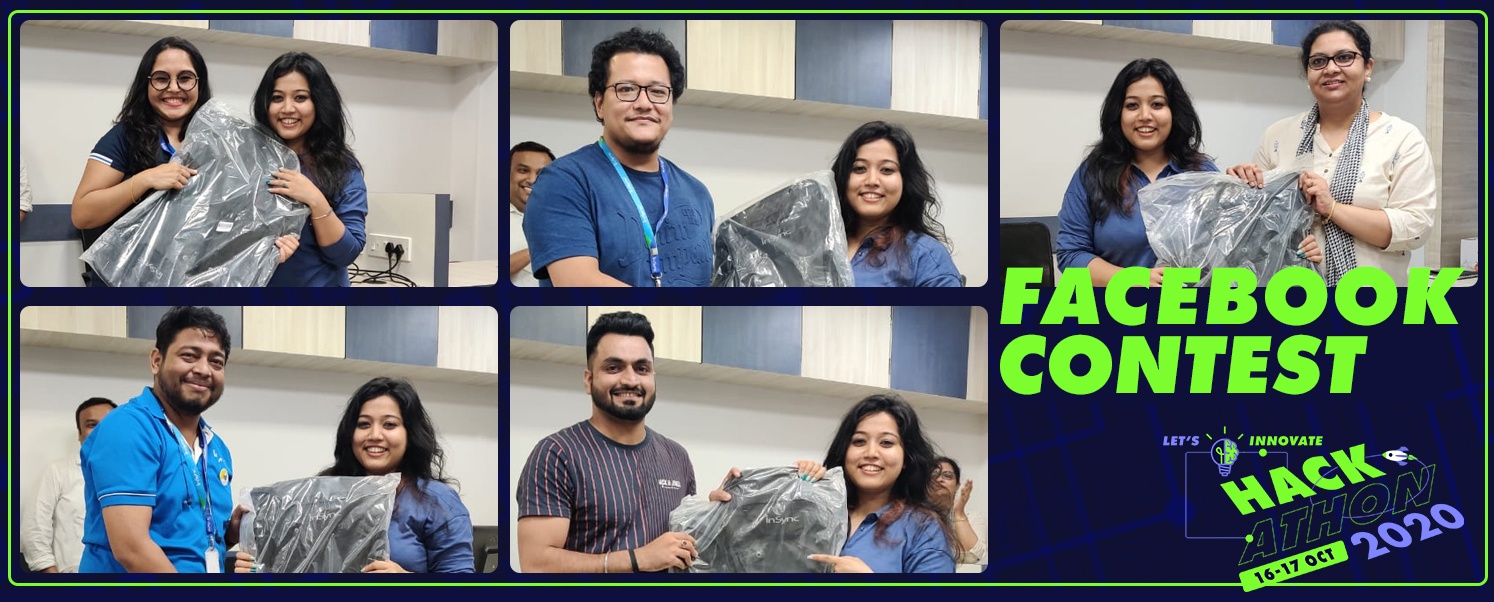 The event finally ended on the 17th of October and 5 teams were recognized as the winners of the closely-knit InSync Hackathon 2020. These teams along with all the others, worked hard to create, build and deliver out-of-box solutions and enhance the business processes of a working organization. We wish all the best to the winners and hope to see many more innovative and disruptive introductions in the times to come.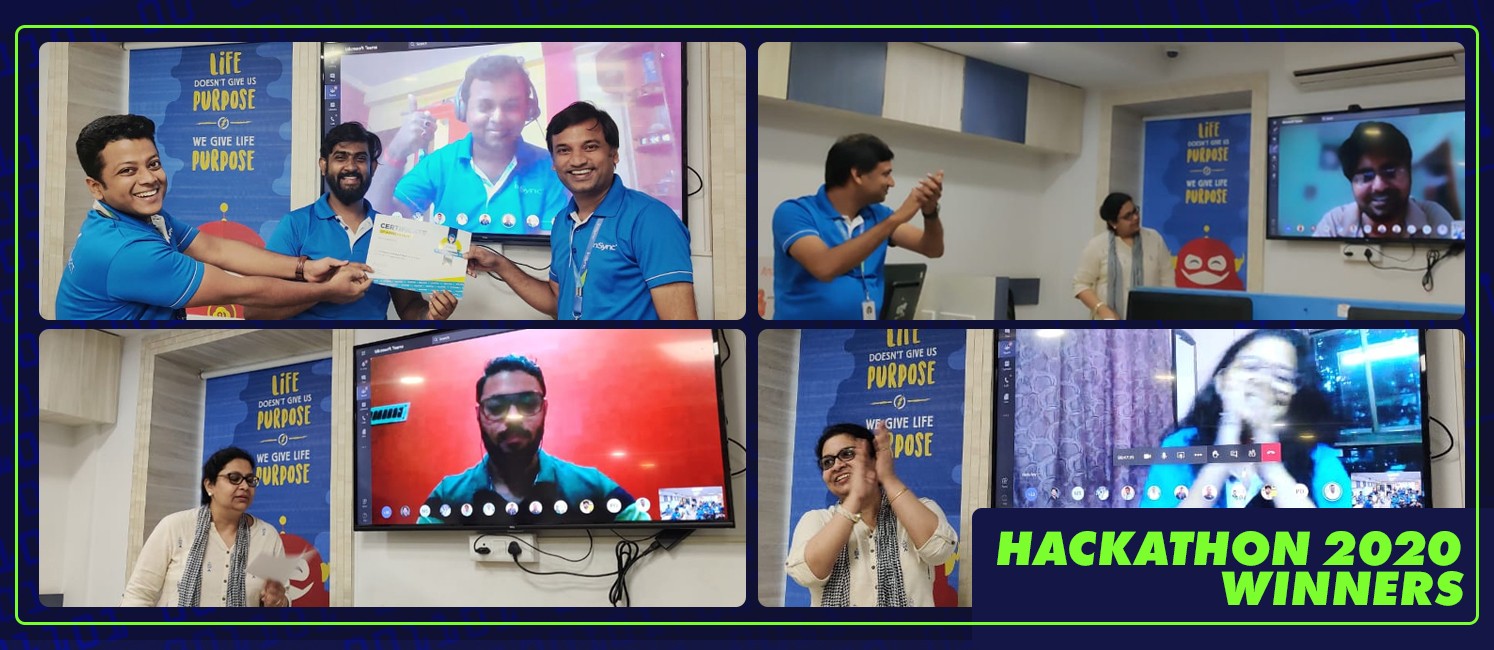 Here is a video of the event – InSync Hackathon 2020!
We eagerly wait for Hackathon 2021 and wish everyone a safe and happy year. We hope to bring more innovative and productive solutions for business owners and individuals who want to attain perpetual growth and increased productivity.
Till then, stay safe.
Get started with your B2B eCommerce store and gain a competitive edge in the market! Also, connect all your business applications under one single platform to automate the business process!

InSync offers a smart Integration Platform as a Service (iPaaS) solution – APPSeCONNECT, which connects multiple applications together and streamlines complex business processes. We also provide integrated B2B eCommerce solutions – B2BeCONNECT for platforms like Magento, Shopify, WooCommerce, etc. to help organizations delight their business buyers with robust B2B features.
You may also like:
Distributed Magento Contribution Day 2020 India – Online
Webinar: Enable Magento B2B eCommerce and Streamline your Operations
Syncopation: A Learning, Development, and Workforce Upskilling Initiative at InSync