21 B2B Ecommerce Terms You Must be Aware of in 2019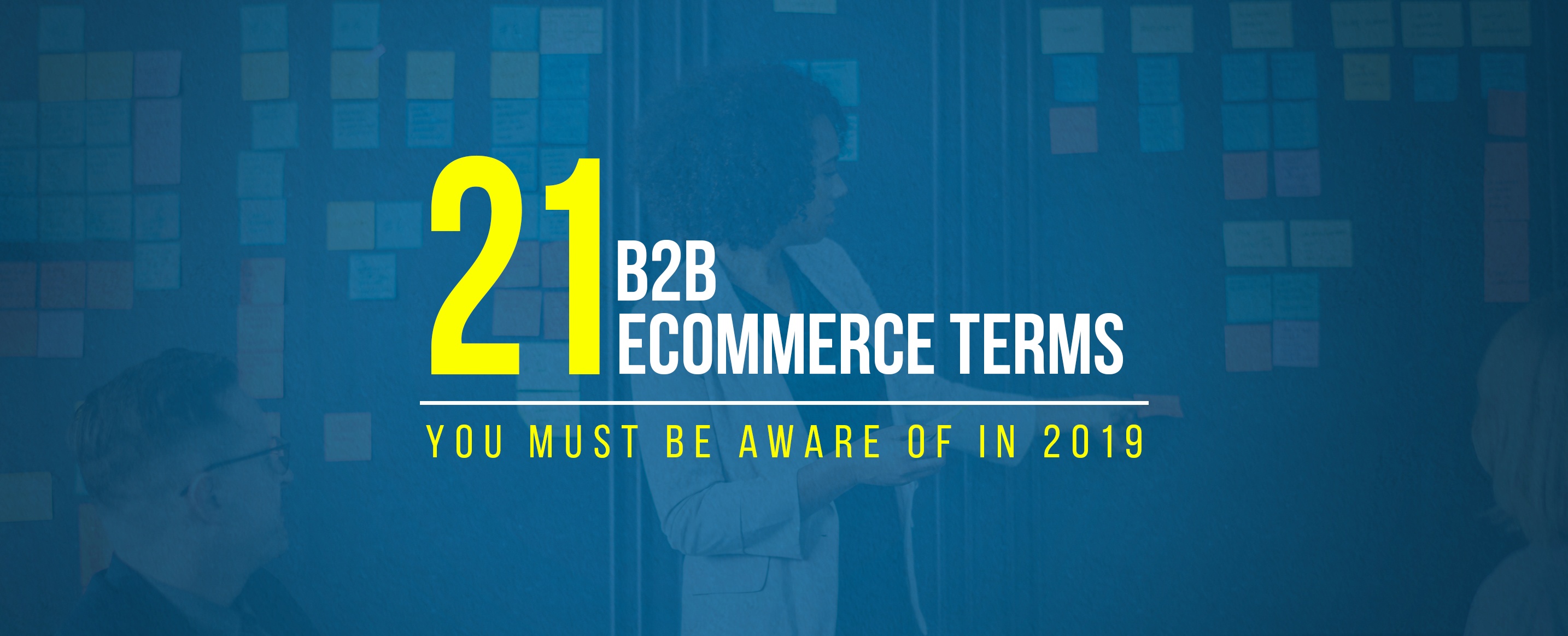 B2B eCommerce or wholesale online store as we know it, is booming in the market today. Millions of companies around the world are engaging themselves in a business-to-business module of process so as to cater to the wider customer base, deal with large quantities, ensure quality and earn more profits. While setting up a B2B store in itself is a tedious task, it should be wrong to consider only the development of the website as the total job for an eCommerce platform. According to practiced entrepreneurs, the majority of the task is not in the development and deployment of the webstore for B2B, but in managing and catering to the post-B2B-adoption practices. One of the most obvious things to start with for any B2B eCommerce store would be Content – creating, curating, editing and publishing.
But this would be not enough too – simply creating content and publishing it won't matter if the content doesn't rank. And we all know, ranking can only be as good as the keywords used in the content are!

So, here's a look at some of the most important terms of a B2B business that every store owner should know.
Top B2B Ecommerce Terms for 2019:
1. Affiliate Marketing
This refers to the kind of marketing based on performance, where the business rewards the affiliate for each visitor he brings.
2. Target Audience
Target audience refers to the group of people who are the expected and potential customer for a business owner. It is for them that he pitches his products, creates content and expects revenue.
3. Backlink
A backlink refers to any external link (from another website) in one's own content. Such backlinks from high authority websites help in increasing the search rankings for any B2B webstore.
4. Content Management System
A Content Management System is an application that simplifies the creating, editing and managing of a webstore for users who are not very technically outreached. A CMS helps by providing useful data with easy navigation.
5. Gated Content
Gated content is any kind of content on the website that needs the reader to fill a form to be able to either read it o download it. This is a simple yet effective practice of future re-marketing.
6. Impression
For a business owner involved in online advertising, an impression would count as the number of opportunities the viewers have to view the ads. In simpler terms, it does not matter if it has been clicked or not, the impressions are the views received on the ads.
7. Campaign
A campaign generally refers to the defined set of activities to market/promote a product. This directly impacts the noticeability and popularity of the B2B store or its products.
8. Branding
Branding refers to the marketing practices of popularizing and showcasing one's company or its products. This includes providing specific names, creating logos, attaining copyright, etc. Branding helps in differentiating a B2B brand or product from others.
9. Buyer Persona
This is a representation a B2B business owner creates in order to segregate his ideal customers/group of customers based on real business data and insights such as demography, behavior pattern and goals. A particular persona reflects the customers' hesitations, likings, preferences, thought process for future purchase and things that influence them.
10. Call-To-Action
A call-to-action is a link within a text, an image or any kind of media that redirects the user to another page to either sign-up to a newsletter, fill a form, buy a product, download content or engage with the store in any kind of action. For B2B business, this CTA practice would ultimately bring customers.
11. Cornerstone Content
A cornerstone content refers to the content of your website that is the prime focussed content. It is the content that talks in details and is the main repository for the B2B company's targeted keywords. This content is very keyword specific and lets out the entire information regarding it.
12. Demand Generation
These are targeted marketing programs that drive awareness and incite interest in a company's products and/or services. Commonly used in B2B demand generation involves multiple areas of marketing.
13. Internet of Things (IoT)
For any B2B eCommerce, it is very important to be relevant to IoT. The ideology of connecting multiple platforms and centralizing business processes over various devices shall be a total game-changer since customers will be easily able to make more purchases.
14. Keywords
Keywords or keyword phrases are terms help your pages get indexed and ranked. This makes them visible in search results through search engines such as Google, Bing or Yahoo. Using the right keywords – ones that are suited to the target audience – will help a B2B business drive traffic to its site.
15. Landing Page
Landing pages are specific pages that intend to selling a product. The page gives out all the required details about the offering. There are two types of landing page – one, in which the readers of a blog, click on a CTA and reach the landing page; and the other in which the users need to fill in their details and information.
16. Lead Generation
Lead generation for a B2B eCommerce store refers to the generation of new prospected customers over every particular period of time. It involves all the strategies and efforts required to attain the goal. It also serves as an agent which creates a future customer database for newsletter marketing and other marketing.
17. One-Click Purchase
This feature refers to the concept of "repeat order". For a B2B business owner, the one-click purchase would let him make a purchase from his vendors directly from the dashboard. Also in case of the customers, this would easily let them repeat their purchase if they so want.
18. Organic Search
Organic search refers to the ranking of a website page only due to its keywords and SEO. This reflects the free traffic gained on the page via content.
19. Cost Per Click/Pay Per Click
This is a term associated with internet marketing. It is involved with ads and search engines and can be expensive if not done correctly.
20. Loyalty Program
For a B2B business owner, it is important to involve in loyalty programs to gain higher revenue. Loyalty programs generally refer to rewards or special points on, returning customers or high-value customers.
21. Social Media Marketing
This refers to the marketing of a product on social media channels.

You may also like:
Top 7 Ecommerce Hosting Services for your B2B Wholesale Store
5 Types of Users for your B2B Ecommerce Store
Features of a Strong B2B Integration Solution