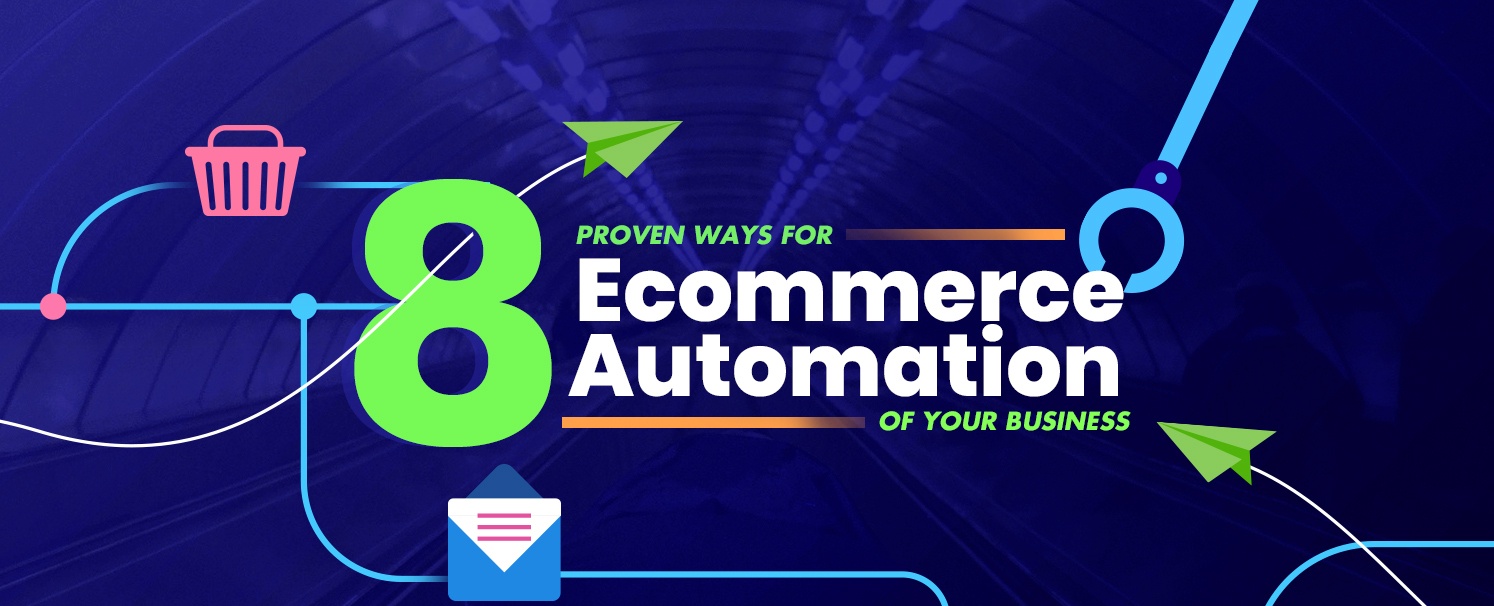 eCommerce businesses are one of the highest growing industries where plenty of opportunities for development are created every day. The revenue in this industry is growing every day and e-commerce businesses are getting access to more and more portions of the market. So how can you get an edge over all the competing firms?
As an eCommerce business, you have various tasks to perform which include displaying the right products, managing inventory, handling orders and payments, ensuring timely delivery, and managing customers. All these need to be done with utmost perfection to ensure good reviews and feedbacks, ensuring a good scope for marketing and top-notch customer service. So, what is the key to keeping every such activity on track?
The automation of the eCommerce business is your answer. Automation today has become a vital tool for e-commerce businesses. It is your key to managing all tasks in a timely and efficient manner. Employees often get burdened with repetitive tasks which can take up a lot of time which can be put towards handling. As an eCommerce store owner, you might ask why one needs to automate their business.
Here are a few benefits of adopting automation:
Workforce allocation: Once you automate your activities, the focus of your workforce can be shifted towards more important tasks rather than the repetitive ones. They can focus more on creative, innovative, and strategic tasks at hand which can improve the efficiency of your store and lead to the growth of your business.
Accuracy: As you run your e-commerce store, you realize that a lot of data and information is generated in the form of details of the customer, order details, inventory digits, etc., and all this information needs to be stored carefully in various systems and all this was done by humans. Therefore, in doing such tasks, there is a chance of human error which can lead to significant loss to your business. Thus, automating such tasks ensure that such mistakes don't occur.
Reduction in costs: Automation of the task results in an increase in man-hours and a decrease in the requirement of the human workforce. This automatically helps you in reducing your costs as you no longer have to invest heftily on routine tasks and can focus more on improving the quality of work done for important departments of your business.
Better collaboration: A good team collaboration is essential to effectively run a business especially when you have complex projects in hand. For the same. Keeping a track of what every member of your team is doing and ensuring the free flow of information becomes important. Automation helps in increasing such collaborations since its easy to keep a track of the members, the various project tasks, and keeping everyone updated so that the tasks can be completed within a decided timeline.
Now that we know the benefits of automating businesses, let us discuss a few of the best techniques to automate your e-commerce business!

Proven Ways for eCommerce Automation
1. Scheduling of Sales
One of the reasons why eCommerce businesses have grown so rapidly today is because of the various sales period that it offers to a customer. One of the ways that a customer is informed of an upcoming sale in through teasers or countdown to build momentum and keep the customer engaged. Predetermining when the sale will take place and the discounts that will be offered can be used to automate the entire process. This essentially means that when the sale goes live, the prices of the products for the same will get changed automatically and no one has to manually type down all the prices. Doing so automatically will not only save a lot of time for your team but also reduce the chances of errors in terms of the price of the product taking place.
2. Syncing with MailChimp
Most eCommerce businesses use email marketing workflows and email marketing tools to circulate their newsletters. If you are one such business, then ensure that you integrate and sync your account with MailChimp. Doing so will give you automatic access to the mail IDs of shoppers who have shown interest in your past emails and create a MailChimp list for the same. Doing so will allow you to send them constant offers and news about your product and ensure the retention of such customers.
3. Rolling out new products
Whenever a new product is released, one has to display it on its website, make the customers aware of it which includes reaching out to customers using social media marketing, email marketing giving special offers, and a lot more. This process can get very tedious, repetitive, and time-consuming. So, one can automate this process as well to make it more trackable and efficient. All one has to do is preload or schedule the contents of the release via a chosen software and it will automatically get published on your website and selected channels. However, a word of caution. Do not rely on this process too much because personalization of content always adds an extra touch in influencing your customer.
4. Feedback and Reviews
Getting feedback can help you in boosting your business as many customers depend on them to decide whether they wish to purchase a product or not. In fact, they are an extremely powerful tool that can lead to either an increase or a decrease in the sale of your products. You can automate the process of getting feedback from your customers by creating automated email workflows that would send follow-ups emails within a period of time after a purchase is made. The mail will include a link where a customer can give their review.
One might even receive a negative or a one-star review. Automating this process will result in your customer support team being immediately alerted and making quick amends to understand the issue at hand.

5. Inventory management
Managing inventory is extremely essential, especially for an e-commerce business. This means keeping a check on the availability of a product and whether you need to order it or not. Running out of products and not being aware of it can cost you a customer and might possibly result in negative feedback as well. Automating this process can help you in avoiding such a situation. Automating it will help you in staying aware of when the product is running low or out of stock. One such application you can use for the same is WooCommerce which sends you notifications on the basis of the limit you set whenever a product is about to go out of stock and thus, you can immediately take care of the problem.
6. Managing Cart Abandonment
Cart Abandonment is something that every e-commerce business owner has to face. There can be many reasons for cart abandonment to most common being window shoppers who just add products but have no intention of actually making a purchase. However, it becomes a major issue for business owners when the reason for cart abandonment is because the customer thinks that the product is not worth purchasing. To resolve this problem, you can automate it by sending reminder emails whenever someone abandons their cart. This will constantly remind your customers to complete the checkout process and in turn, reduce the rate of cart abandonment.
7. Social media marketing
Social media is a great way to get the attention of your customer. However, posting every day on social media can take up an of time which otherwise can be used to say improving sales. One can automate these tasks by scheduling posts according to when they are supposed to go up. Once you schedule posts say for a week or a month, the application you use will automatically make the post on the designated date and time on your behalf. Buffer is one such tool that can help you post your products on different social media platforms in a go.
8. Automating accounts
Accounting of your business which includes keeping a track of transactions, discount rates, returns, refunds, and payments can take up a lot of time and can be very difficult to manage especially when the size of transactions is especially huge. However, you can also automate this task. Doing so can ensure that all the data regarding the customer and purchases is directly placed at the company's accounting system from the inventory management system. The application you use will automatically record all the sales and supply orders made using your eCommerce store along with the refunds that are made.
These are just a few ways using which you can automate your eCommerce business. Automating your business can help you in focusing on tasks that are crucial for the growth of your business. Automating your business is also a step taken by you to take your business a step forward. We hope you find this blog helpful. Let us know your feedback on the comment section below!
Get started with your B2B eCommerce store and gain a competitive edge in the market! Also, connect all your business applications under one single platform to automate the business process!

We offer a smart Integration Platform as a Service (iPaaS) solution – APPSeCONNECT, which connects multiple applications together and streamlines complex business processes. We also provide integrated B2B eCommerce solutions – B2BeCONNECT for platforms like Magento, Shopify, WooCommerce, etc. to help organizations delight their business buyers with robust B2B features.
You may also like:
26 Amazing Productivity Tools For Remote Working
Top 8 B2B eCommerce Mobile Apps to Grow your Business
7 Major Advantages of Using a B2B eCommerce Mobile App