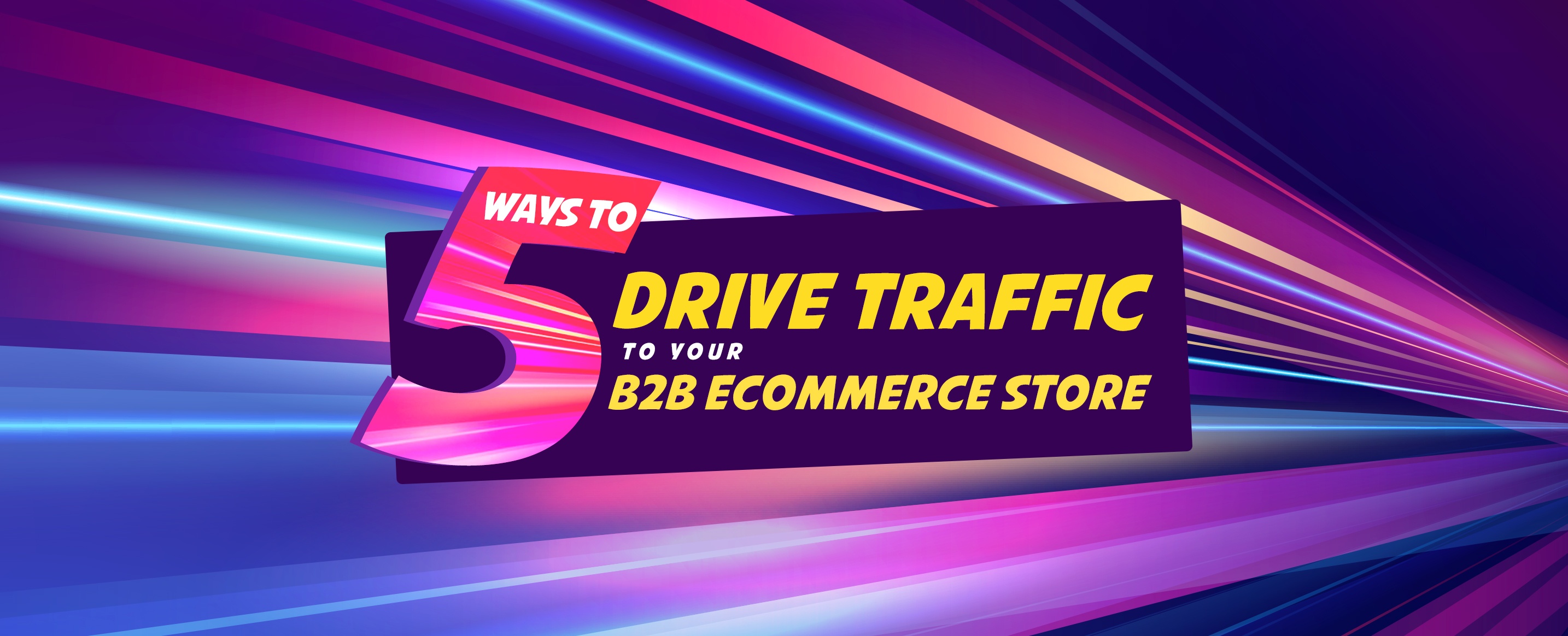 "How can I drive quality traffic to my eCommerce website?" As a B2B eCommerce entrepreneur, this thought has crossed your mind over and over again.
Statistics recorded by Hubspot revealed that generating quality traffic is one of the major challenges faced by most organizations today.
No doubt, product Ads are great, but do you have the huge marketing funds to run them? If you're just starting out, you may not have the financial clout to run costly paid ads.
If your B2B online store doesn't get the right traffic, then nothing else matters.
Also, it's not just about driving traffic to your store; it's about driving the right traffic that involves prospects who are interested in buying your products.
In this post, we're going to show you how to drive quality traffic to your e-commerce website without a big marketing budget.
Sounds impossible, right? Well, it's not.
But, before we go further, let us take a look at some things you need to put in place to ensure that your website is well-positioned to receive and retain the incoming traffic.
Check The Speed Of Your Website:
Have you checked how long your e-commerce website takes to load? Normally, your website should load in three (3) seconds. You could lose over 50% of your visitors if your website's speed is not fast enough. And sadly, research has revealed that as many as 80% of visitors who leave your site due to its slow speed may never return.
To test the speed of your e-commerce website, you can use a tool like webpagetest.org

Make Your Website Mobile Friendly:
By now, you should know the importance of having a mobile-friendly website.
Even if you drive a huge amount of traffic to your website and your website is not optimized for mobile, you could lose all your visitors.
If your website is not mobile-friendly and you don't know how to go about it, don't worry, here's how you can improve the mobile-friendliness of your e-commerce website.
The diagram below shows the important features that are most appreciated by visitors who get access to your website through their mobile devices.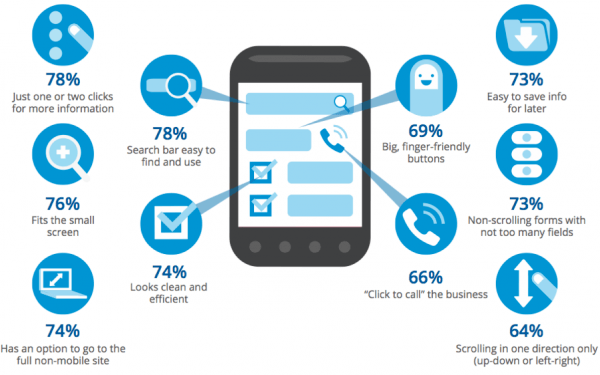 You can also test the mobile-friendliness of your website by using Google mobile-friendly test. All you need to do is enter the URL of your e-commerce website.
Now you know some important features your website needs to have in order to retain visitors. Let's dig right into the most important part of this post.
Here Are 5 Ways To Drive the Right Traffic To Your Online B2B Store
1. Create Premium Content:
You can attract quality, targeted traffic to your online store by creating informative, engaging, and interesting content. 92% of content marketers believe that online retailers and entrepreneurs will be able to drive the right kind of traffic to their online store if they publish valuable content consistently.
Unfortunately, most online entrepreneurs and e-commerce website owners do not take content marketing seriously. They do not have avenues through which they can publish content online.
Having a blog can be a great first step; you can even create a blog using WordPress. Your e-commerce website should not just be for selling products. Nowadays, customers want to see that they can get valuable information from your store. According to research, 84% of millennials revealed that user-generated content influenced their buying decision.
There is no limit to the kind of content that you can create. You can create content on product reviews, informative articles, ebooks, guides, videos, etc. The opportunities are endless when it comes to content marketing.
Another good thing about content marketing is that you can create content to target a specific localized audience, and you can use an online localization and translation service like The Word Point to get your content translated into the local languages of your target audience.

2. Referral Marketing
Do you have a referral program for your online store yet? If no, you should consider creating one. Create an incentive that your existing customers can benefit from when they tell their friends and family about their favorite product(s) in your online store.
All thanks to the use of a referral program, in 15 months, Dropbox grew the number of its users from 100,000 to over 4 million.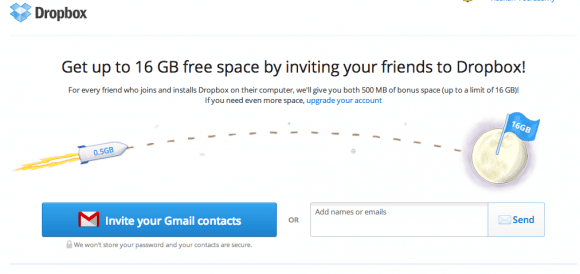 Starting a referral program isn't difficult at all, and it is a very effective way to drive the right kind of traffic to your online store. People are more likely to buy your products when one of their friends or family members tell them about it; 82% of consumers already agree with this fact.
3. Leverage SEO
We already talked about creating premium content as part of your efforts to drive quality, cost-effective traffic to your online store. Part of creating good content also has to do with making sure that your content is SEO optimized.
This is important, as SEO optimization of your content will ensure that your website ranks on Google, and as a result, drive organic traffic to your e-commerce website.
I know that the concept of SEO can be really broad, but don't hit the panic button yet, here are some basics to focus on to ensure that you're in the right direction;
When creating your blog content, make sure you add some keywords related to your online store.
In your content, use external links that connect to other relevant high profile websites in your industry.
Submit a sitemap of your website to the most prominent search engines like Google, Bing, Yahoo, etc.
Make sure your product descriptions are rich in your chosen keywords.
Make sure your meta descriptions are detailed.
Post your content on other top websites, and link to your e-commerce website.
If you can implement some of these SEO tips, your website will definitely witness an increase in traffic. It might interest you to know that search engines produce about 93% of web traffic.
4. Maximize The Use Of Video Content On Social media.
It is no longer news that videos are great marketing tools, and harnessing its power can drive quality traffic and increased sales for your online store.  One good social media platform to post your video content is Facebook.
Here are some reasons why you need to start posting your video content on Facebook.
By 2020, Facebook video ads will likely account for up to 80% of all traffic over the internet.
As much as 67% of marketers in the United States run video ads on Facebook.
Engagement with video content on Facebook stands at 135% when compared with images.
Most consumers prefer watching product videos than reading about the products.

Keep in mind; there are other social media platforms like Twitter and YouTube that are also great for hosting your video content and driving a great amount of traffic to your website.
5. Email Marketing
It is unfortunate that today, a lot of marketers and online entrepreneurs think that email marketing is dead. And they fail to leverage this inexpensive method of traffic generation.
In today's business climate, personalized marketing is taking over and for good reasons. Email marketing allows you to send personalized emails to target, engage, and address the needs of your customers.
You can launch personalized promotional email campaigns to build your email list, nurture existing customers, and retarget cold customers to complete an abandoned transaction.
Final Thoughts
It doesn't matter if you've just launched your online store or you've been in the e-commerce industry for a long time; everyone needs a boost at some point to generate more traffic and boost sales for their business.
You have to identify your audience and target them using the methods mentioned above.
Best of all, you don't need to have a huge marketing budget for you to drive the much-needed quality traffic to your online store.
Get started with your B2B eCommerce store and gain a competitive edge in the market!

________________________________________________________________________________
You may also like:
B2B eCommerce Trends and Disruptive Strategies – Embracing Digital
How to Create a WooCommerce Plugin from Scratch
10 Killer Tools To Boost Content Optimization