5 Best Plugins for Multi-currency Support in WooCommerce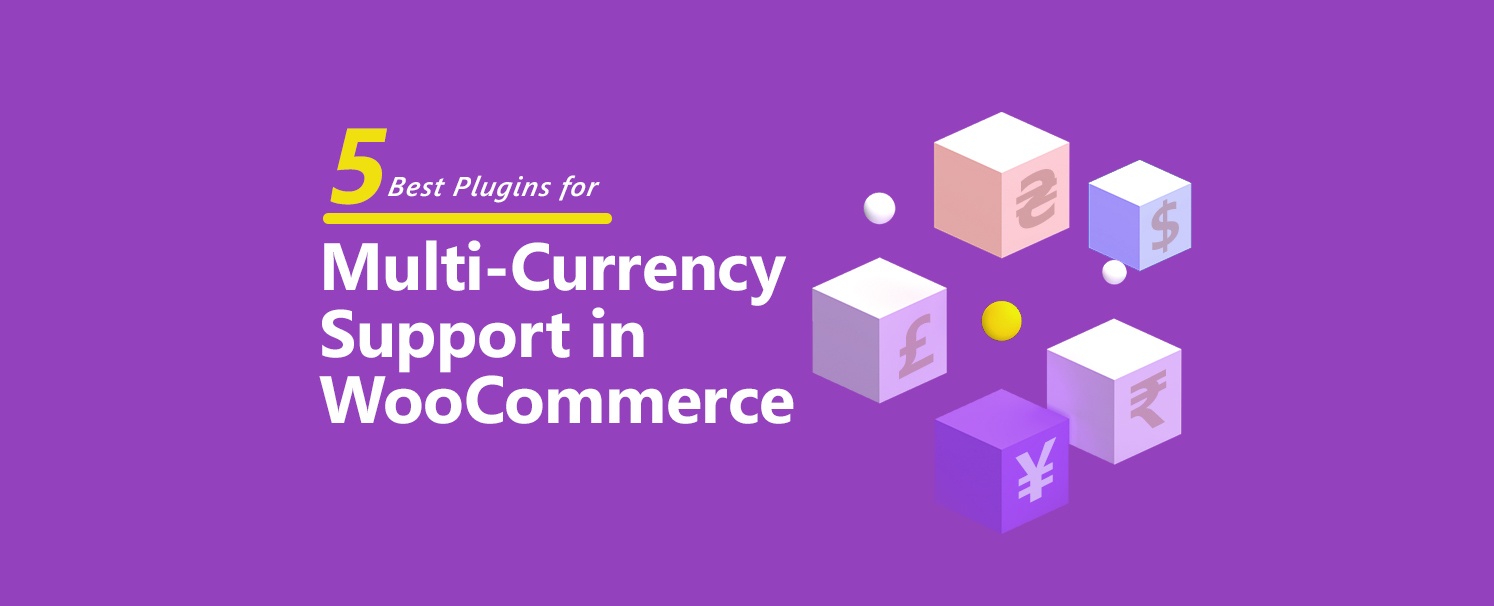 An e-commerce store is often set with the aim of taking one's business to the global market. An online business owner needs to keep in mind that even when this goal is achieved ensuring that the needs of the customers from various locations are met which includes having a currency converter for all your products. This essentially means that simply opening your store to global customers is not enough to attract them. You also need to ensure that they are able to view the products and make transactions in the currency that suits them. Many businesses who fail to do so often lose out on customers who are interested in purchasing products from their store however, not being able to convert the product into their preferred currency bugs them off.
Therefore, your WooCommerce store should be such that it accepts payments in multiple currencies. Depending on the country where the purchase is being made, your store should keep changing the base currency accordingly. This will definitely make your store user-friendly and increase the number of purchases being made. Here is a list of some of the best WooCommerce multi-currency plugins for your business.
5 Best Plugins for Multi-currency Support in WooCommerce
1. WooCommerce + WPML
One of the leading plugins used for adding a multi-currency feature to your WooCommerce store is the WordPress Multilingual Plugin. It comes with various functionalities that allow you to translate to multiple languages on your WordPress website as it powers more than 40,00 WordPress websites and multiple currencies on your WooCommerce store by offering you a whole suite of software.
It is considered to be extremely user friendly since it simply changes into a different currency depending upon the language of the customer. Some of the best features of this plugin include:
It can be integrated with both PayPal and Stripe.

It translates everything on the store which ranges from menus, URLs, categories, pages, tags, products, settings, and not just the currency.

The way you display the prices in terms of currencies can be customized by you for your products.

It provides you the flexibility of using your own exchange rate instead of a standard one.

You can manage how the currencies are displayed during the check out process.

On the purchase of a WPML license, you also get access to unlimited sites.

It is very easy to configure.

It automatically changes the currency based on the language.

It can figure out multiple language and currencies at the same time using a single plugin
Some might say that the price of this plugin is quite expensive. It costs $79 to get the license for a year and $39 to renew it, while the license for lifetime costs $195. However, when it comes to conversion of language and currency you can rest ensured that it is seamless on the part of both yours and the customer's end.
2. Multi-Currency Pro for WooCommerce:
This new and modern version of currency convertor in the WooCommerce arena has been widely accepted by shop owners due to the multiple options and features that it comes with. One of its key features is that the backend of this plugin is quite seamless and easy to use. Other features include:
You can add as many currencies as you want.

It has a currency switcher option in its header, footer, and sidebar.

Customization of designs is allowed.

Payment is made on the basis of the currency.

Currency is decided on the basis of the location.

For this WooCommerce plugin, customers can pay in their desired currency or currency selected by the store owner. It is quite easy to figure out this plugin since its extremely user-friendly, lightweight, has a clean design, and comes with multiple video tutorials. Apart from video tutorials, it also provides customer support to its users for setting up their store currency. This plugin comes in the free and pro version which allows you to add multiple currencies for its free version as well.
3. WooCommerce + Realmag
If you are a store owner with a slight budget constraint, then this WooCommerce Currency Switcher by Realmag can be your go-to plugin. Although it's not as feature-rich as WPML, it still has a good record of sales and updates and can accept multiple currency payments with some configuration and tweaks. Some of its key features include:
A simple configuration can change the default currency to the currency of your choice.

Allows customers to pay in their local currency.

Allows users to set an automatic currency exchange rate or enter one.

It allows its user to change the prices in such a manner that you can make a product cost cheaper or expensive for individual customers without them knowing any of it.

Allows you to manage discounts and loyalty to select customers.

Allows its user to customize the display and formats of prices and currencies as well as set a particular currency as public or private.
A regular license for this plugin costs $39 and an extended version costs up to $130. The affordable nature of this plugin is what makes it popular among users.
4. WooCommerce + BeRocket
Currency exchange of WooCommerce by BeRocket has been in the market for 3 years now and has managed to gather quite a customer base. Some of its best features include:
It has a full currency exchange for WooCommerce.

It supports the open currency rates being updated every 24 hours.

The currency changed automatically on the basis of the IP address.

It accepts MasterCard.

The widget for this plugin supports ratio buttons and drop-down menus.
This plugin is free of cost and is great for the use of beginner and it works on WordPress 5.0 and above.

5. WooCommerce + Aelia
WooCommerce currency switcher by Aelia is one of the first plugins to come in the market which makes it quite robust due to the regular testing conducted on it, to make its code efficient. Some of the impressive features of this plugin include:
Customers can shop using the currency they prefer.

Merchants can enter the prices of products and coupons without the use of exchange rates.

Uses geolocation to identify the customer's location.

The exchange rates are set according to the preference of the customer.

The currency selected shows different payment options accordingly.

Can be integrated with WordPress 3.6 and higher.

Allows a user to automatically calculate prices in various currencies by entering price in base currency.
This plugin has one of the best customer support and is quite comprehensive making it one of the best plugins to date.
These are just a few plugins that we think is best for your business. We hope you found this blog helpful. Let us know your feedback on the comment section below!
---
Get started with your B2B eCommerce store and gain a competitive edge in the market!

You may also like:
How to Create a WooCommerce Plugin from Scratch
B2B Commerce Mobile App – The Key to Successful B2B Strategy in 2020
How to Sync WooCommerce Product Images using API