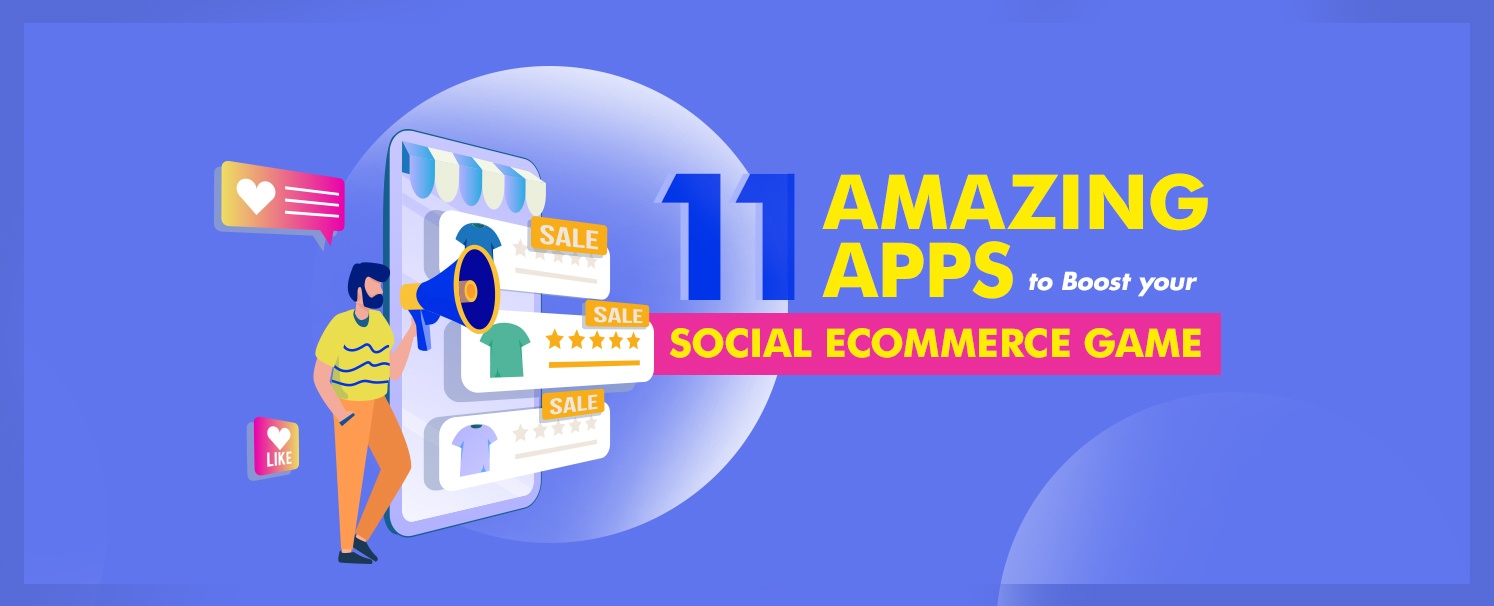 Today, social media marketing is one of the most disruptive ways of marketing. With a high number of active users, social media platforms have become the key targets of marketers to engage with customers and convert them into potential buyers. Apart from attracting customers, social media also becomes a platform for a brand to improve its visibility by using various features like running ads, publishing posts, contacting influencers to showcase products, etc. 
However, these are not the only features that can help you in improving your brand image on social media. Updates like Stories on Instagram and Facebook contain numerous options like polls, questions, ratings, etc. that can be very effective if used properly. Also, let's not forget the power of content on social media! The correct and regular creation of content can help an organization more than anything and enhance the digital presence of the brand. 
With the constant rise in the number of eCommerce users and businesses relying on social media marketing every day, certain companies are now creating tools that specifically focus on growing your businesses by efficiently leveraging your social media platforms and enriching your social media marketing. From curating content, using the correct hashtags to viewing analytics, such tools can change the path of your business.
Here are a few Tools to Help You Boost Your Social eCommerce Game:
1. Buffer

Buffer is a tool that allows its users to schedule posts in advance for social media platforms like Facebook, LinkedIn, Twitter, and Instagram. This tool helps in saving a lot of time by allowing you to schedule and share posts to all four social media channels at once, as per your convenience, via your desktop or your cellphone. The free version of this tool can be used for up to 3 social media platforms for scheduling 10 posts, the pro-plan for 8 platforms and costs $15/month.
However, if you're willing to invest your time in this app, the best plan for you is the premium plan which is available to you after a trial period of 14 days and costs $65/month. This plan allows you to schedule nearly 2000 posts with 8 social media platforms. This plan allows you to create and post stories on Instagram and Facebook, gives you analytical insights on how well your posts are doing and embeds a shoppable social media grid on your webpage.
2. Canva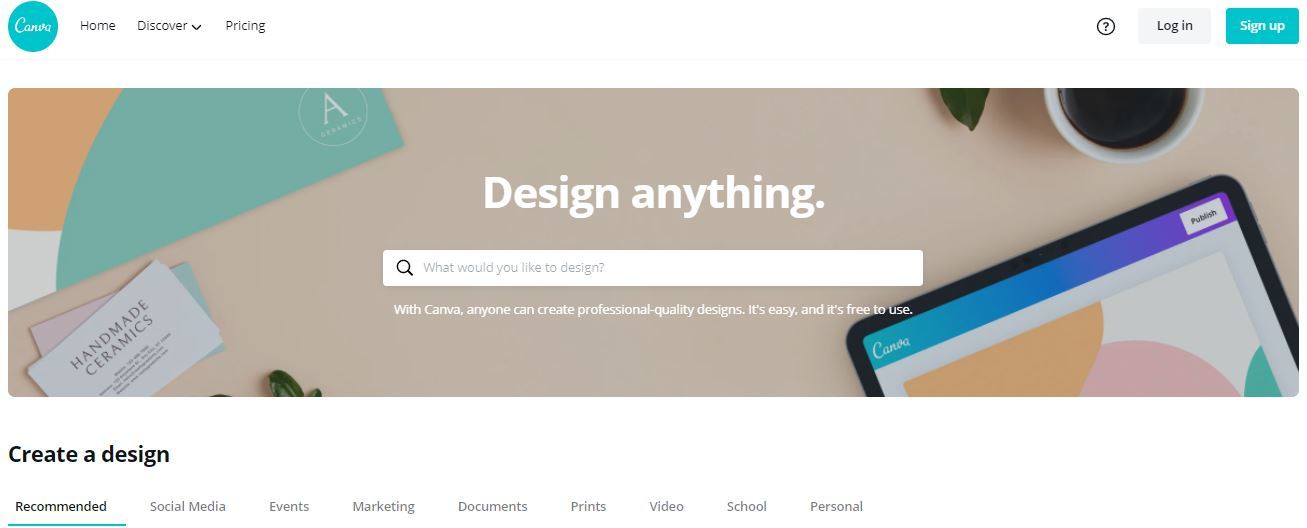 If you're looking for a design tool to create images that stand out, then Canva is your go-to tool. It allows you to create images for social media platforms, blogs, websites, etc – Canva has templates that are dedicated to creating Instagram, Twitter or Facebook-specific posts, stories, videos, ads, etc. The templates are also divided into various categories so that you don't have to look much for the template you need. It allows you to customize your designs in terms of fonts, images, background, frames, graphics, colors as per your needs, and even saves all your designs. The best part about Canva is that it is very user friendly and can be easily used by anyone.
The free version of this tool allows you to create image designs with some premium graphics which you have to pay for as and when you use them. However, if you want a wider range of templates with transparent background and the option to create GIFs and animations, then you should subscribe to the Canva Pro version which costs $9.95/month (paid annually). Canva ensures that you have all the images ready to go both on your desktop as well as your smartphone.

3. VSCO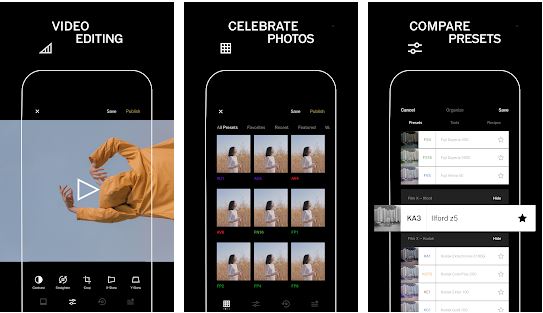 Visual Supply Co. is one of the trendiest photo editing and sharing tools which is considered to be an OG for creating images for social media on the go. This, partly image editing and partly social networking platform, has features that allow you to give an authentic and professional look to your photos which make them stand out from the regular filters that can be seen on social media. Apart from having its community, VSCO is considered the leader among design tools because it has an abundance of filters of top-quality along with an in-depth editing platform.
It is available for your smartphones for both iOS and Android users and allows you to create images that take you to a higher level at the convenience of your cellphones. This tool is free of cost for basic editing and filters, however, if you're serious about this tool the premium plan costs $19.99/year which comes with various features including access to a huge repository of filters and complete access to video and image editing tools. It also includes Borders and HSL along with early access to new additions and photo contest challenges. It is especially beneficial for social media marketers working with images because it automatically transforms your image into a ratio that matches the standards of your chosen social media platform.
4. Repost for Instagram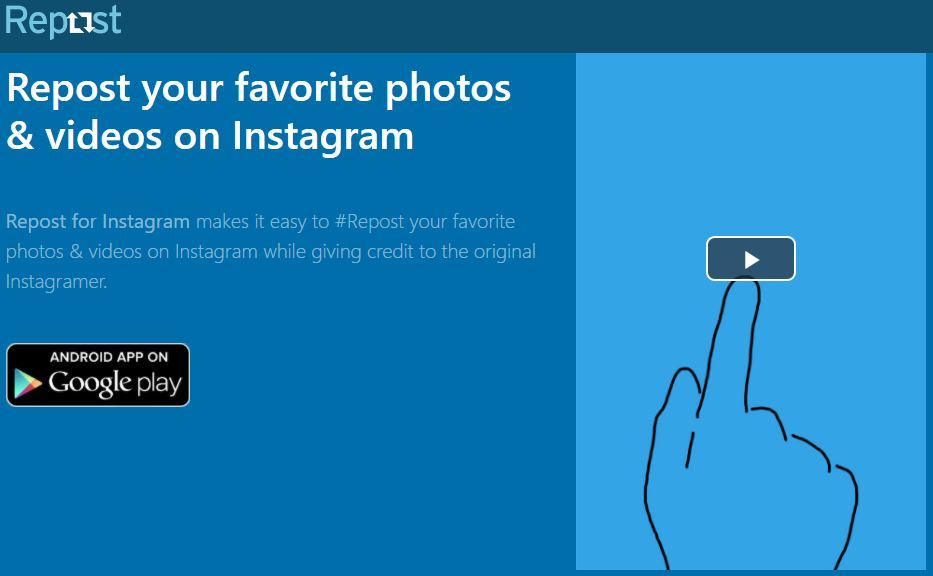 Creating engagement is one of the reasons why businesses opt for social media marketing. One such tool which allows you to engage with users is Repost for Instagram. The purpose behind this tool is to repost user-generated content from your community for customers and give them the credit for the same as well. One thing to keep in mind while doing this is to get permission from the owner of the post and ensuring that you're giving them credit through your caption.
This also allows you to engage in influencer marketing as you can repost something that they posted on your behalf.
This tool is free of cost, however, at times many people ask for a fee to give you permissions since it then becomes a part of influencer marketing. The Repost can also be added to your buffer schedules to make things easier for you. One of the few ways to ask for permission is via email, commenting on posts, or sending a direct message. Once you get the permission to repost, a credit icon will be added to the image, the description will get copied and the post will be ready for your use.
5. Later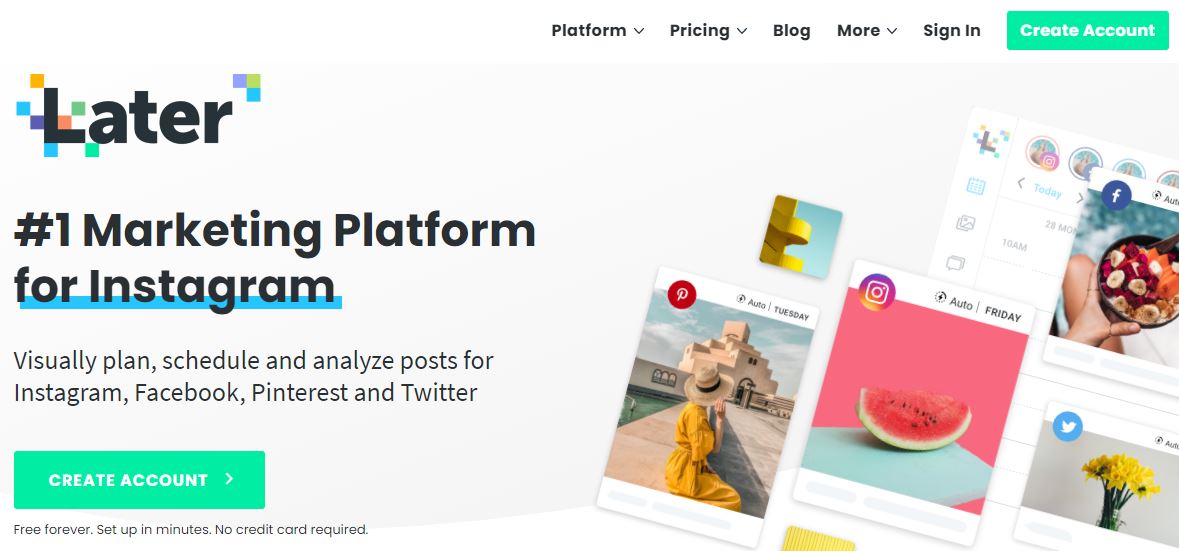 If you're looking for a scheduling tool that allows you to plan a campaign simultaneously, then Later is the perfect tool as it helps you in streamlining your social media strategies so that you can grow and expand your business. Some of its most popular features include the ability to analyze which hashtags are relevant, analytics into how your posts are doing, visual scheduling, share user-generated posts, and media management. Visual scheduling is one of its benchmark features which essentially allows a user to get an idea and preview of how their feed is going to look like as they schedule posts, which enables one to analyze what would work best for them.
Apart from these, Later allows you to run multiple social media accounts together. Another unique feature of this tool is that it saves the captions you've used before and automatically implements a hashtag strategy which helps in improving the visibility of the post. The free version of this app allows you to run one account with up to 30 posts/month. The paid version, on the other hand, starts from $9/month for one account and allows you to post up to 100 posts per month.
6. Hashtagify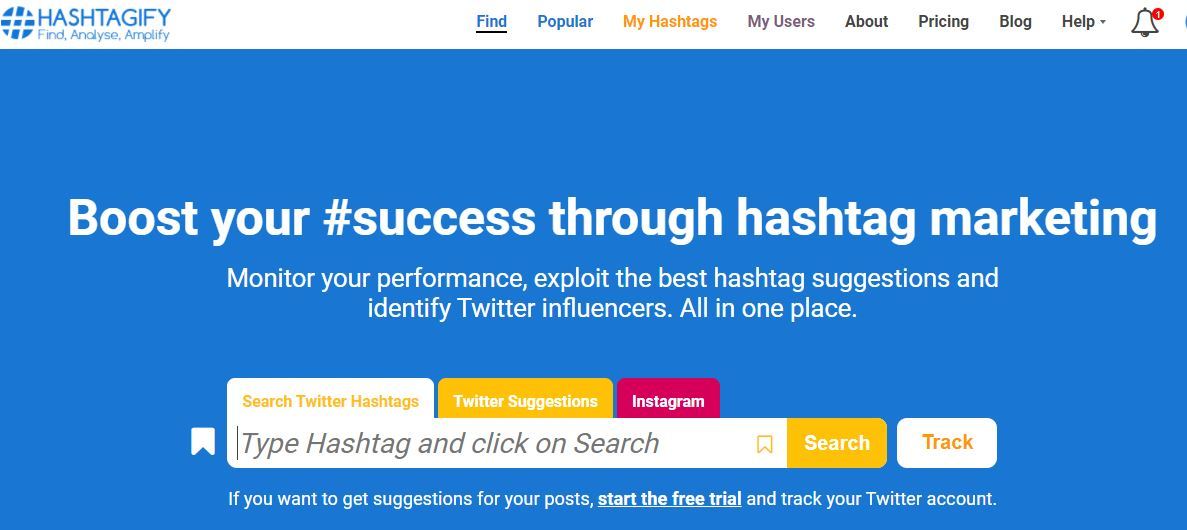 Understanding the trends of social media is extremely important to ensure a higher level of engagement with your potential audience. To appear on their feed, you need to use the trendiest hashtags and this is where Hashtagify comes to your rescue. What it essentially does is take real-time data from all the social media platforms for a particular hashtag and tells you how popular that hashtag is, what is its ranking, and also informs you about the influencers who are using them to help you in getting a better understanding of the trends.
Hashtagify has gained its popularity by giving us the most updated information regarding the weekly and monthly trends of hashtags and gives you a complied report of the necessary stats on a single platform. Due to the ease of its use and the opportunity to monitor your competitor's performance, Hashtagify is one of the most used social media engagement tools. Another striking feature of this tool is that it also tells you when is the best time to use a particular hashtag. The signing up for this tool is free of cost, however, if you really wish to explore this tool further, then one can choose a package according to their needs.

7. Wishpond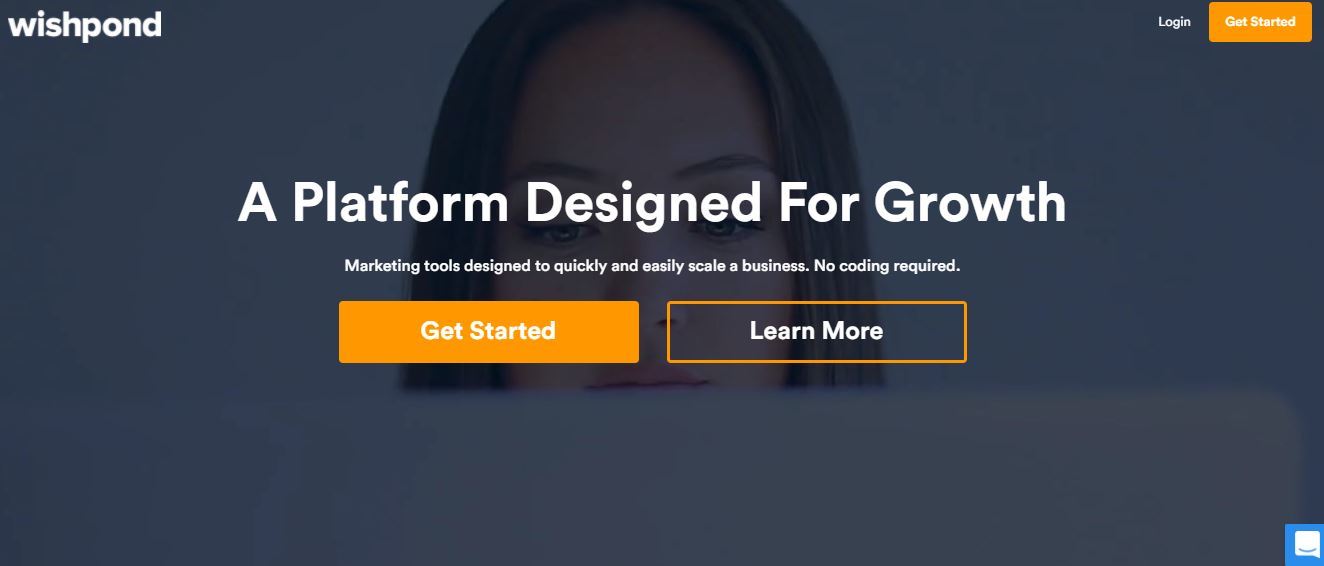 We have mentioned this before, and we'll keep saying it again, without creating engagement, one cannot expect to survive in the social media market. A good engagement strategy would result in an increase in followers. Wishpond is one such social media tool that can help you in doing so. Wishpond allows you to seamlessly host contests and attract the attention of users towards your brand. The highlight of this tool, the photo contest feature creates entry pages and galleries for you where the participants can enter the photos.
The way to make your brand trending is to ask the contestants to submit their entries using the hashtag of your brand to ensure maximum viewing and exposure. One tip to keep in mind before starting the contest is to keep all legal formalities in check. You can explore this tool by checking out its free demo which is available on both iOS and Android.
8. Snapseed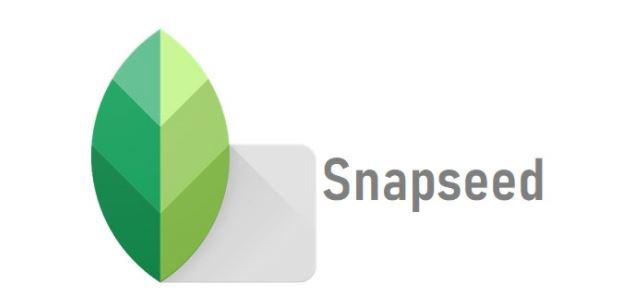 Snapseed is a photo-editing tool that helps you by providing an extra touch to your pictures. It helps you in nailing every little detail of your image using its brush feature which helps you focus on every segment of your portrait. With the ease of use, and various filters and sliders available, this app is extremely popular and is available on iOS, Android as well as Windows.
Another great feature of this free of cost app is that it allows you to save several filters as a template which can then be applied to pictures you edit later and in turn give a consistent look to your entire feed.
9. Social Searcher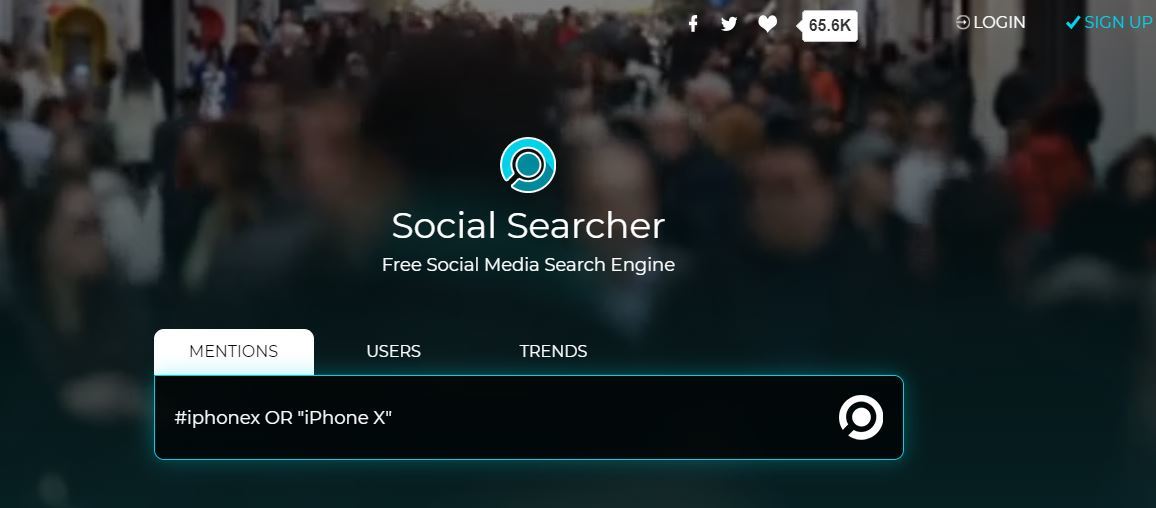 Your job on social media doesn't end with creating engagement with your followers. It is important to understand whether the strategy you have adopted is working well and generating the required results or not. Social Searcher is one such social media marketing tool that can help you in interpreting your performance. This tool will essentially help you in identifying what the users have to say about your brands by tracking all your activities and other activities related to you.

This will include checking all the mentions and comments that have been made about you, how often is your hashtag is being used so that you can understand whether people have good or bad things to say about you. It also helps you in knowing what negative hashtags or comments have been made regarding your brand so that you can take care of them and be prepared to handle the situation. This tool is free of cost and is available on both iOS as well as Android.
10. Sprout Social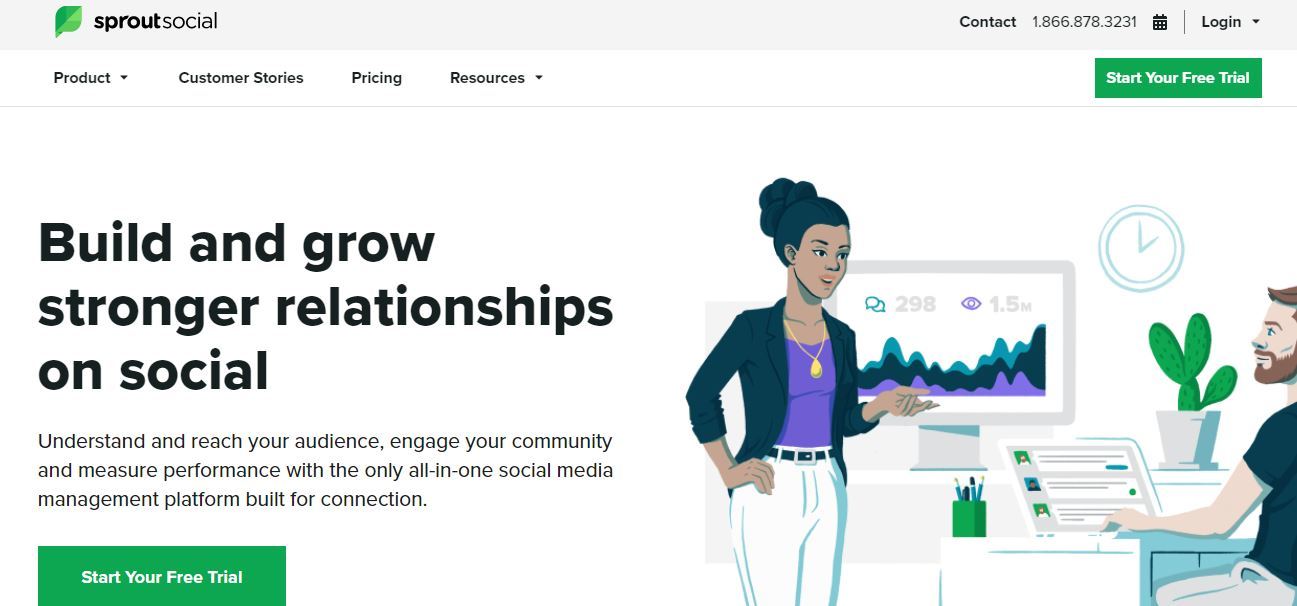 Another amazing social media management tool that will help you in analyzing your performance is Sprout Social. It is a management tool that analysis your activities in-depth to acquire a detailed analysis of how well your latest activities and posts have been doing. They do so by keeping a track of how much engagement is being generated by your brand and then compares the results with that of your competitors to see where you stand.
Apart from this, it also keeps a check on hashtags that are relevant to your brand, new opportunities that could be created, and establishing a community for your business. If you're interested in using this app, then know that it starts with a 30 day free trial period followed by $99/month and can be accessed from the web, iOS, and Android devices.
11. Linktree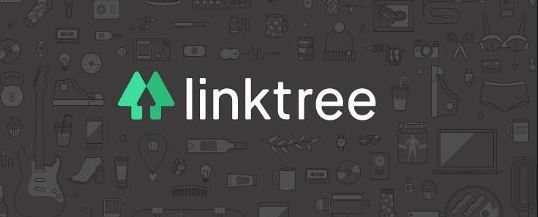 Your profile on the social media platforms gives the viewers a brief idea of what your brand is all about and also helps in directing your audience to your website or your online store via a link. However, some platforms like Instagram, allow you to post only one link on your profile which can hinder your efforts to some extent. Linktree helps you in solving this very problem. What it does is that it creates one customizable link that when clicked, takes you to a page where you can find multiple links related to your brand.
On the said page, you can post all the links where you want to increase traffic and take your visitors to. Linktree is very simple to use and all you have to do is take the link created by Linktree and paste it on the 'Website URL' section of your social media network. The basic version of this tool is free of cost however a pro version that enables you to add more links costs $6/month. This tool can be accessed via the web.
It is no secret that social media marketing is on the rise with a multitude of social media platforms contributing to it. Now is one of the best times to take advantage of all that the social media platforms have to offer and grow your business with it. These social media marketing tools can only help you in fast-tracking this process.
We hope you liked this blog. Let us know your feedback on the comment section below.
Get started with your B2B eCommerce store and gain a competitive edge in the market! Also, connect all your business applications under one single platform to automate the business process!

We offer a smart Integration Platform as a Service (iPaaS) solution – APPSeCONNECT, which connects multiple applications together and streamlines complex business processes. We also provide integrated B2B eCommerce solutions – B2BeCONNECT for platforms like Magento, Shopify, WooCommerce, etc. to help organizations delight their business buyers with robust B2B features.
You may also like:
26 Amazing Productivity Tools For Remote Working
Top 8 B2B eCommerce Mobile Apps to Grow your Business
The Growth in Mobile Commerce in 2020: Impact of Coronavirus