SAP TechED && d-code Berlin 2014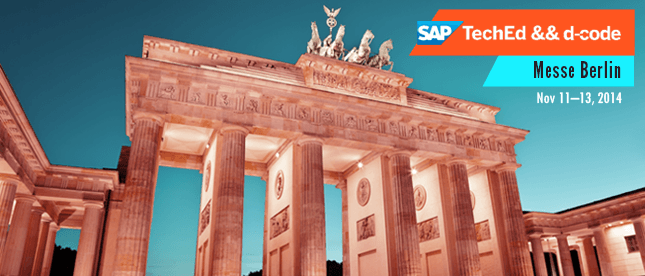 A unique event that will focus on learning, live coding and collaborations. Not only that, this event will be offering technical lectures and hands on workshops covering topics like in-memory computing, Big Data and real time analytics, Cloud Management, Hadoop, SAP HANA platform and user experience.
SAP TechED && d-code Berlin 2014 will be held on 11-13th November. This 3 day event will be primarily crowed by developers and tech professionals. The event is not limited to learning workshops and lectures, one can attend the keynotes, watch live coding events, and network with developers and IT experts. The attendees can get their hands on the latest SAP development tools and environment in the Developers Garage.
Get a glimpse of this event below:
New this year at SAP TechED && d-code:
Strategy Talk focused on high level SAP product direction and strategy along with new announcements.
A 30 mins TED style session focusing on industry and technology trend and customer innovations.
Developer Garage, A BYOL activity where you can get hands on experience on the latest SAP development tools and environment
The Code Review Session, where you will get to know how to make bad code good and good code better through real world examples.
The mini edition of the popular SAP CodeJam, where one can get a chance to meet one-on-one with SAP development experts and many others
Get a chance to play with a verity of toys and tools that showcase completely new and innovative users for SAP Technology at Hackers' Lounge
Powered by Internet, Food and Booze, the Hackers Night will be the place where something great can be made.
Birds-of-a-Feather (BOF) session will be the last hour of the day at show floor where you can connect with SAP development experts around mutual topics.
Hear Bernd Leukert– Member of the Executive Board of SAP SE, Products & Innovation as Keynote Speaker. Get the full list of Speakers here. Here is the Agenda. Don't miss to Register. Hurry up!
Follow them on #SAPtd.