InSync at the Airtel Run For Education Marathon 2016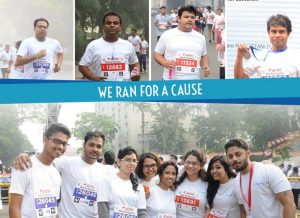 The Airtel Run For Education Marathon 2016 took place on 27th November 2016. Team InSync participated in this social cause with full enthusiasm. RUN-FOR-EDUCATION is a fund raising sporting event which is organized to support the cause of providing education to the underprivileged children, signifying "Freedom through education". This initiative was taken by Round Table India in 2014 and the inception year witnessed ardent participation from various walks of life like corporate, students, families and more. The 2016 leg of this annual event was flagged off from City Centre 1, Salt Lake.
The event started off at first with some warm ups and everyone started doing stretching exercises. Later on Miss Earth came up to motivate people to run hard for this cause. There were 3 different race categories: 21Km, 10Km and 5km. The reporting times were 4:45 am, 5:15 am and 6:45 am respectively. People had gathered in thousands for the marathon. A DJ belted out Bollywood chartbusters and a singer performed peppy numbers to help the runners assembled at Salt Lake City Centre get into their groove. So even before the sun had risen, everyone ranging from schoolchildren to grandparents were dancing on the track Sooraj Dooba Hai as part of the warm-up.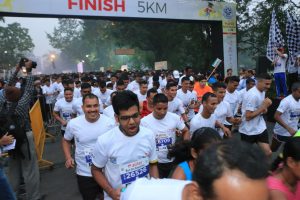 The event was well organized and there were stalls all over for the people to eat and drink. There were PACERS present for the marathon. The Race director, Mr. Kunal Khilani had ensured that proper medical precautions were taken. The CEO of our company, Mr. Atul Gupta went for the 10Km run and completed the same in 01:06:59.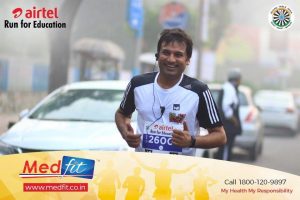 Team InSync participated actively in the event. We raised slogans and made sure that we left a good impression for the social cause. Everyone enjoyed a lot and looked forward for a better tomorrow!
"Many of the 8,000 participants in the third edition said they saw the event as twin opportunities rolled into one – getting into the habit of running for fitness and, just as importantly, coming together as a city to raise money for the underprivileged."- The Telegraph Metro
Here are some of the good performers of the Insync team:
Narottam Das: 01:12:10
Varun Mandal: 01:19:19
Devdrone Bhowmick: 01:22:45
Soumitra Chakraborty: 01:37:07
Avijit Paul Poddar: 01:25:05
Anmol Gupta: 01:07:53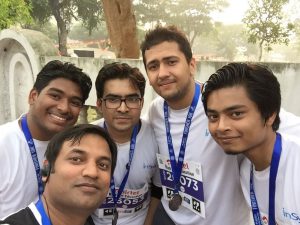 The Airtel Run for Education 2016 also witnessed the evolution of technology. There was use of timing technology where every participant of the 21Km and 10 Km got to know their personal time of completion of their marathon. With the help of Pic2Go app, photos of marathon runners were updated on their Facebook Profiles in real-time and team InSync was happy to assist the organizers in the process.
We keenly look forward to Airtel Run For Education Marathon 2017!
You may also like:
Team InSync Ran for a Cause at Airtel Run for Education Marathon, Kolkata
InSync at the Airtel Run For Education Marathon 2014
InSync gears up for Airtel Run for Education 2015