About Us
We are a product development company helping ecommerce businesses across the globe to be more efficient. We help ecommerce merchants to focus on their core business by integrating their ERP with Eecommerce platforms and CRM applications with the help of our product 
APPSeCONNECT
, an integration platform which seamlessly connects two applications.
With more than 300 customers across 40+ countries, we are growing fast and we are constantly looking for talented and enthusiastic people to be a part of our awesome team!
If you want to hone your skills in the 'integration' domain, and be a part of our super-team, then get in touch with us. We'd love to hear from you!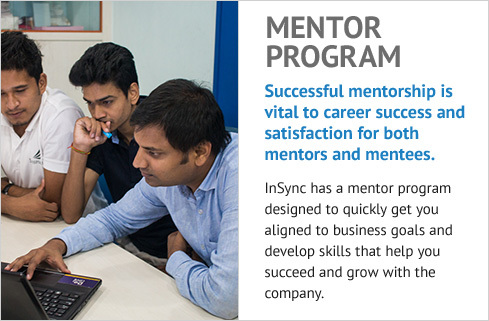 Job Openings
Junior Legal Executive
Job Requirement:
Job Description:
Drafting and vetting of commercial contracts/ MOUs/ policies.
Research and analysis of existing laws to provide a reasoned conclusion
Compliance work
As a Candidate you must have:
LLB Qualification
Good Communication skills
Trainable, ready to learn and eager for growth
With good internship experiences, publications, engaged into different learning/ development/ training activities will be preferred
Ready to take up responsibilities and finding opportunities to contribute
Remuneration offered:
• Industry best standard salary
• Remuneration will also depend on the skills and will be discussed at the time of interview
Timing: Regular
Location: Kolkata
Technical Writer
InSync seeks a Technical Writer working independently to create, amend and manage documentation of our product.
Job Requirement:
Responsibilities:
Produce and prepare reports and documentation as required; for example weekly job Status Reports, Monthly Reports and others as may be requested.
As a Document Specialist, you will be responsible for:
Proofing and Formatting the electronic documents & forms as per the business requirements with 100% accuracy.
Meeting the Business SLAs on Time with Quality.
Delivering high quality, accurate and reliable end-user documentation artifacts/templates/forms which satisfy the customer requirements.
Support the business in the preparation of a range of marketing materials including policy documentation, direct mail, point of sale, training materials and sales literature.
Support other department heads with the preparation of reports and statistics where required.
Maintain an up to date library of relevant client marketing and sales literature – for example product brochures, after sales literature, accessories offers and customer communication.
As a Candidate you must have:
Any Graduate with Computer Programming Exposure.
Experience in Documentation Work and/or Blogging, etc. for minimum 2 years.
Strong word-processing skills & Proficiency in using documentation tools (Adobe Acrobat Professional, MS-Office Suite – Microsoft Word in particular, knowledge of templates & complex document formats.
An average typing speed of at least 35 WPM.
Excellent Interpersonal & Communication skills in English (both written & verbal).
Strong analytical & critical thinking skills.
An Ability to grasp and communicate technical and functional concepts concisely and effectively.
An Ability to estimate time and effort for documentation projects.
A desire to effectively participate in reviews of authored content, and ensure timely response with corrections.
A Strong work ethic & the ability to demonstrate working in a team environment.
Remuneration offered:
• Industry best standard salary
• Remuneration will also depend on the skills and will be discussed at the time of interview
Timing: Regular
Location: Kolkata
ASP.NET Developer
Job Description
We are looking for a Sr. Development resource to help our in-house engineering team build our product "APPSeCONNECT" – this product would be a platform where in customers can search for their accounting software and the ecommerce software they wish to connect. We are in public beta and these additional resources would help us build a wow product.
Skills:
Should have expertise in jQuery, jQuery templates, data- attributes

Knowledge of Kendo or KnockoutJS preferable.

Must have worked with REST APIs.

Knowledge of C#, MVC4, Web APIs most preferable.

Should have very good functional understanding of ERP Systems and ecommerce Business

We are looking at developers who have been a part of Web 2.0 kind of products team
Desired Profile:
Minimum 3 years of experience in a product development environment in software development role

A strong understanding of current web, data and cloud technologies

Ability to actively manage competing priorities and meet deadlines

Individual must be a creative thinker, confident and able to express complex ideas in an articulate, concise manner

Understanding of ecommerce Domain is an advantage.
Experience : 3+ Years
Remuneration offered:
• Industry best standard salary
• Remuneration will also depend on the skills and experience and will be discussed at the time of interview
Timing: Regular
Location – Kolkata, Saltlake
Upload Your Resume
We are always looking for talented and passionate people.
APPLY HERE